This is a guest post from Nathan Sharpe where He shared insightful steps you can take right now to protect your computer from hackers.
Not many entrepreneurs recognise the importance of safeguarding their business computers and tech devices because they think that they are too small to be targeted by cybercriminals.
However, no matter how small you think your company is, it is still critical to be vigilant.
This is supported by a finding from the Verizon 2019 Data Breach Investigations Report, stating that at least 43% of cyber-attacks are targeted towards small businesses.
If you are an entrepreneur managing a small business or a startup, chances are, you do not have the luxury of having a dedicated IT department in-house to manage your technical requirements.
It is then up to you and your team to find ways on how to protect your business devices from security threats and troublesome breakdowns.
Even if you are not an IT expert, you can still perform basic security measures that will help add an extra layer of protection to your business tech devices.
You may also like: How to Streamline Your Business Processes
Here's how to protect your computer from hackers
Install Malware Protection
Technology has advanced dramatically and because of this, many people think that viruses and malware are a thing of the past.
However, the advance in technology has only made malicious software more sophisticated and dangerous. This means you also need to be more vigilant when it comes to protecting your machine.
Installing an anti-malware program on your devices is not rocket science. If you can install Facebook or Instagram on your phone, then there is no reason why you won't be able to manage a straightforward installation of an anti-malware program.
This security action will not take a lot of time nor will it cost you a lot of money. Go for paid anti-malware programs over free applications as they are generally more reliable.
Take advantage of managed services
When your computer crashes or when your printer breaks down, this can be very disruptive to your business.
If you don't have an IT guy working for you full time, this means you would need to go through the hassle of trying to find a company, shortlisting a few options, negotiating quotes, and then enduring the wait until your machine is ready for use again.
This lengthy process can be avoided by using managed services for your technical needs.
With managed services, you outsource a third-party company on an ongoing basis to regularly maintain and troubleshoot your IT needs.
It is the opposite of an on-demand model wherein you only call up a company when there's an issue.
Having a managed service is a proactive method to ensure that your business machines are working smoothly all the time.
If you encounter a problem, most of these service providers offer remote diagnostics which allows them to resolve the issue as soon as possible even when they are not on-site.
Backup your data to the Cloud
The data that you keep in your machines are intangible business assets that you most probably cannot afford to lose.
With most business tasks performed digitally nowadays, losing your data can stall your operations and can even cause major financial consequences. 
As a preventive measure, having a data backup has already become a necessity. Years back, many companies forego to back up their data because it can be quite expensive and time-consuming to do so.
Now, there are many solutions that you can use that are convenient and accessible.
If you only have a small amount of data, you can use free services like Google Drive. This can immediately be used if you have an existing Google account as you don't need to create a separate account.
If your business holds sensitive and confidential data like financial and client information, you can sign up for a paid Google Drive alternative that offers more advanced security features.
Use strong passwords and data encryption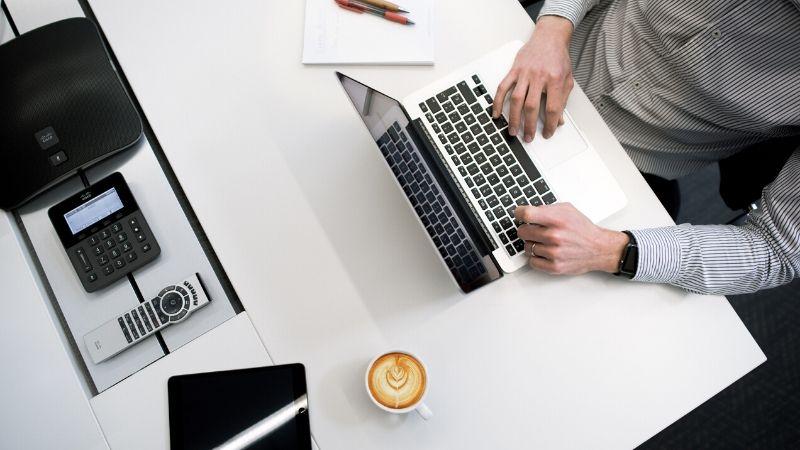 An obvious yet often overlooked security practice is the use of strong passwords to protect your devices. This means using "qwerty1234" or your date of birth for a password should never even be considered.
Choose a password that has a combination of upper-case and lower-case letters, numbers, and special characters.
Write down the password and make sure that you store your password in a safe place so you won't risk losing it or forgetting it.
Data encryption is another way to deter hackers from using your data. By encrypting your data, you are adding protection by making it difficult for unauthorised users to access your data.
There are many available encryption programs that are available online that you can use for this purpose.
Regularly update your software and applications
The next time you receive a notification that you need to update your software, don't hit the dismiss button. Having the latest updates and versions of the applications you use is essential to keep your devices secure.
Software updates are a means for developers to address existing issues that programs may have, including security issues.
When you use an outdated version of a program, this could open you up to security risks. Scheduling regular updates during off-peak hours is one way to ensure that your devices are always up-to-date.
Create an easy-to-understand company IT policy
Believe it or not, one of the leading causes of tech breakdowns and security breaches is human error. There have been many studies that support that equipment breakdown is often caused by mistakes people make than the actual issues with the equipment itself.
Many tech users unknowingly create problems due to ignorance that their actions can produce negative consequences.
Do you know, for example, that many employees still click on an anonymous clickbait email even if they believe that this email is malicious and could risk their machines?
For you to avoid potential issues caused by you or your employees, it will be useful to create an IT policy guide for your company. This should be simple enough for even non-techie employees to understand.
Use this as a platform to educate your employees on best practices when using business devices.
When prevention is better than cure
The old saying that it is better to prevent a problem from happening than treating it only as it happens also applies when it comes to securing your business machines, computers, and other tech devices.
Having a proactive approach will not only protect your tech assets, but it will also give you peace of mind.