Download this 12 months social media plan template and customize for your use.
Social media is, without a doubt, one of the most effective channels to market your business.
Regardless of your niche – whether you're in e-commerce, B2B, retail, or business services – social media provides you with the easiest platforms to engage with your ideal customers, build brand recognition, and generate business demands.
And, the best part is, it is pretty easy to set up on these social media websites.
While you are eager to get started already, social media could turn into an avoidable time sunk-pit, especially, if you jump right in without a plan.
So in this post, you are going to learn how to create a social media plan that helps you cut through the noise, share high-quality, timely content that provides value to your audience consistently while also smashing all your social media business goals.
You also get the option to download our customizable social media plan template for free to speed up your efforts.
Here's a quick run-down of the elements of our 12 months social media plan template: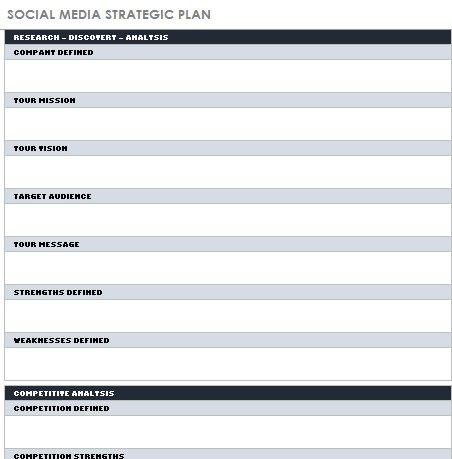 For us, we believed our social media objectives should flow directly from our marketing plan which of course, is tied to our yearly business goals.
Hence, you will find in this template that we included a section that describes our business and goals.
You can remove this section when customizing your template. It's optional. For us though, we included it to ensure consistency across all our marketing channels and to provide a high-level view of the reasoning behind the social media objectives.
That said, let's dive into the template now:
Research. Discovery. Analysis section
Company Summary
Add a summary of your business. What you do. Your mission statement and vision.
Who are your target audience?
Describe your ideal audience here. I'm guessing you've already done your market research and that you a clear description of your target customer – so simply copy and paste it here.
If you don't have detailed data on your customers, you may want to read this: How to Understand Your Target Audience
What is your brand voice?
Your brand voice is how you want your brand to sound – goofy, playful, professional, warm, friendly?
Keep in mind though, that your brand voice on social media should be consistent across all your other channels.
You want to sound the same to your customers regardless of the touch-point they are interacting with your brand.
To ensure consistent brand voice across all touchpoints, consider creating a style guide for your business.
Learn how to identify your brand voice: How to Build a Brand Without Breaking The Bank.
Competitive Analysis Section
Who are your competitors?
Identify some of the top competitions in your niche. List them here.
What are your competitors' strengths?
Analyze what your competitors are doing on social media. Identify the things they are doing well – what kind of content do they share with their audience? How often do they share content? What channels are they on?
Also, take note of the type of content that resonates with their audience – which content do their audience seems to like most?
What is your competitive edge?
List out the things that make your company different from your competitors. What are your strengths?
What are you going to do differently?
Compared to your competitors what are you going to do differently to attract and engage your audience?
Your competitive edge and analysis of what others are currently doing should give you ideas on how to differentiate your brand online.
What are the potential roadblocks?
In this section, list out all the possible things that could limit or stop you from implementing your social media strategies. Then, create a plan on how to prevent them or work around them.
Plan Building Section
Set Social Media Objectives
Here's where you list out the business-related objectives you want to achieve using social media.
80% of marketers according to a survey by Sprout Social say they use social media to increase brand awareness. 65% say they use social media to build a community around their brand while 54% say they use social media to drive traffic to their website.
Other major objectives to set for your social media efforts include:
To generate leads and sales
Increase brand advocacy among customers
Distribute content
As customer support
Establish authority and industry expertise
Set Measurable Goals
Break down the objectives into small measurable goals for each of the platform.
For example, you can set a goal to grow your company's Twitter account following by 30% in the next 30 days. Now, do the same for the other platforms.
How do you intend to accomplish the goals?
Here's where you write down the tactical, step-by-step action you need to take to accomplish your goals.
So, let's say, you want to grow your Twitter followers by 30% in 30 days:
Day1 – Follow 500 relevant accounts
Day 2: create and schedule content for the month – the frequency of your tweets will depend largely on your niche and how often your competitors tweet too.
As you can see, these are actionable tasks you need to accomplish each day to hit your goals. Rinse and repeat for each of the social media websites you have a profile on.
Measure. Metrics. Track
Identify important metrics to measure
The metrics you set to track will depend largely on your objectives. If your goal is to build brand awareness, you may want to track engagements and audience size.
Set a reporting plan
How often do you want a status update? Keep your eyes on the things that are working and seek ways to optimize for those. While channelling resources away from those that are not working.