Tldr: My goal with this review is to weigh SEMrush's Berush affiliate program against a set of essential features affiliate marketers agree are crucial when they are considering to join any affiliate program.
I have presented these criteria and how the SEMrush affiliate program stacks up against them in a table format below.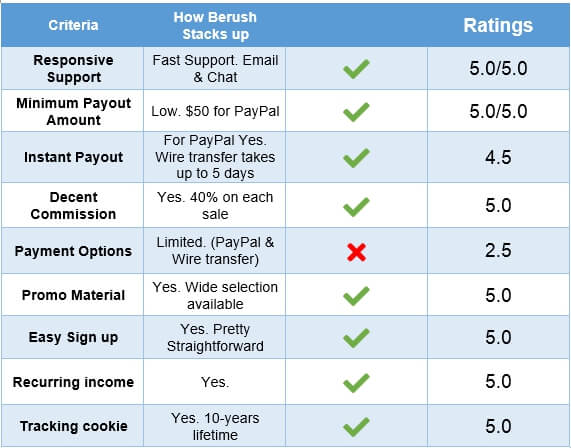 ---
Hey there, thinking of joining the SEMrush Affiliate Program?
Before you take any step further to become an affiliate read this review.
Here's the deal. I will be utterly honest in this review. No fluffs. No B.S. No promotional gimmicks.
Just pure, undiluted facts. I will tell it as I see it.
Why?
Because I want you, my friend, to have all the information you need to make informed decisions about whether the SEMrush affiliate program has the right offer for you and your audience or not.
Fair enough?
A bit of context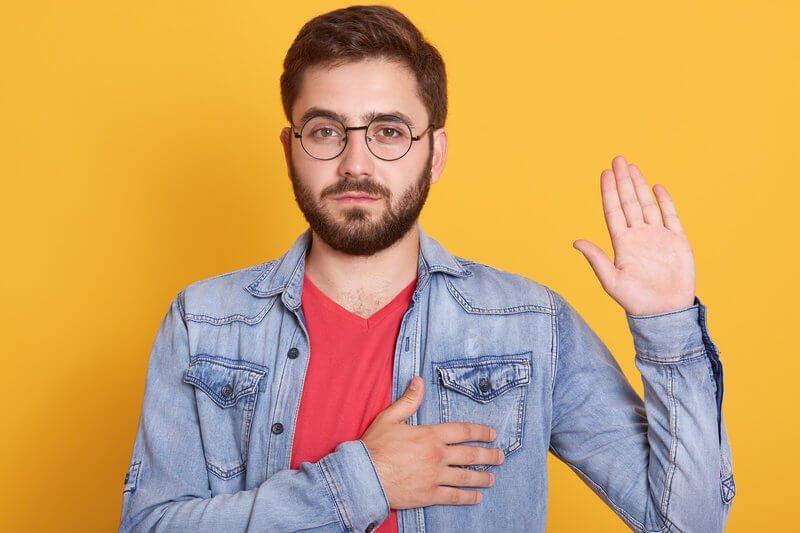 So, we've been using SEMrush marketing tool for a while now. But, haven't come around to promote or recommend it to anyone before now.
The thing is, recently we have been researching ways to implement sustainable and predictable revenue generation strategies on our site.
One of the strategies we came up with is to sign up as an affiliate for the products we use.
While we hope to earn a commission when people buy the products and services we recommend, we have a set of rules and criteria that guide the choice of programs we join.
They are:
We must use or know someone that uses the product we want to recommend.
The product MUST solve a problem or fill a need for our audience.
With these rules acting as our North star, we can now genuinely recommend products and services we truly believed in. And, which we know will benefit our audience too.
That said, let's deep dive into the SEMRush Affiliate program proper.
---
What 3 Experienced Affiliate Marketers Say New Marketers Should Consider Before Joining Any Affiliate Program
As an affiliate marketer, what are the most important things an affiliate program Must have to make it worthwhile for you?
Said another way, what are the things that get you pumped up and eager to join an affiliate program?
For us that would be:
– Must be high quality and solve real problems.
– Have recurring commission with a decent payout.
– Have a super-easy onboarding process and great support.
However, to sample other people's opinions, we sent out a call out to affiliate marketers asking them what they look out for when joining any affiliate program.
Here's what they have to say:
Benjamin Poulter, founder of Driver Funnel believed training and support are the most important when it comes to choosing an affiliate program.
In his words, "The most important I would say is the training and support. There will be many times you become stuck or unsure what to do next with traffic, SEO, email autoresponder, building funnels, etc.
The most important I would say is the training and support. There will be many times you become stuck or unsure what to do next with traffic, SEO, email autoresponder, building funnels, etc.
The smallest thing can put you off and make you quit. You need to get in your head that failure is not an option!"
For Ranjan Bhavsar two things every affiliate should check before joining any program are the conversion rate and earnings per click (EPC).
According to him, "These two factors will give you an overall idea about the offer."
Jesus Damian Rodriguez Perez listed 5 things he considers before signing up for any affiliate network.
The minimum payment
How long it takes for payment to reach his account
Suitable offers that match his audience.
The cost per click
Is the offer from the country to which the traffic will be directed?
---
See what 35+ other Expert Affiliate Marketers say you should consider before joining any affiliate program
---
With these in mind, we set out to weigh the SEMrush Affiliate program against these sets of criteria.
But first…
---
What is SEMRush?
Founded in 1998, SEMrush is one of the big three, all-in-one, internet marketing and SEO tool.
BeRush is SEMrush's affiliate platform where affiliates and agencies sign up to promote the tool.
Here are some staggering numbers about the SEMrush platform: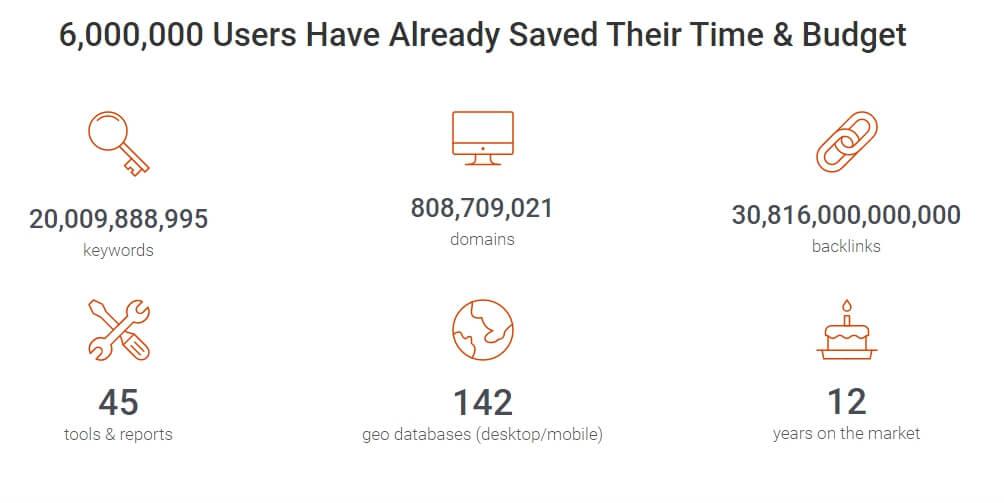 20 Billion Keywords available in the Magic Keyword tool.
Generates upto 20 Million ideas for a keyword.
6 million users marketing specialists from all over the world use SEMrush.
1 Billion events are analyzed per day
30.9 Trillion backlinks crawled.
809 million domains crawled so far.
17.3 Billion URLs crawled per day
142 geo databases (Desktop/mobile)
12 years on the market.
The point is, SEMrush has come a long way. And is without a doubt, one of the dominant players in their niche.
What Problems Do SEMRush Solve?

SEMrush enables its users to track all their marketing workflow from one dashboard.
Users can easily do competitive analysis, keyword research, website comparison, traffic analytics, brand monitoring, backlink auditing, social media monitoring and PPC tracking.
SEMrush offers 45+ tools for anyone doing SEO, PPC, Social media, Content or Competitive analysis to accomplish their work from one platform.
Who Are SEMrush's Target Customers?
SEMrush's target audience is fairly broad due to the wide range of solutions and tools it offers.
However, the all-in-one marketing platform caters primarily to the online marketing community (think: SEOs, SEMs, Bloggers, Online business owners, and Businesses trying to improve their visibility online).
How Much Does SEMrush Cost?
SEMrush offers a 3-tier pricing structure. Pro, Guru, and Business plans starting at $99.95, $199.95, and $399.95 per month respectively.
There's also the option for a custom solution for enterprise users.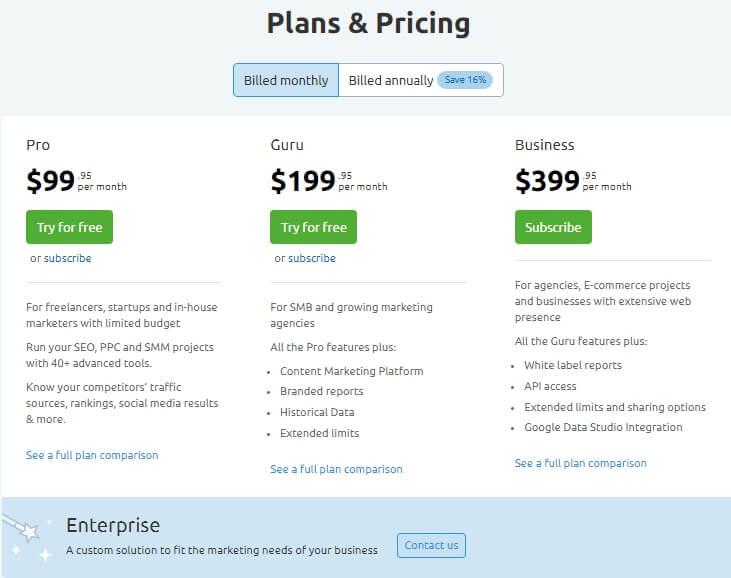 ---
BeRush – SEMrush Affiliate Program – Review
Berush is the official name of SEMrush's in-house affiliate platform.
So, moving forward, I will use both terms interchangeably to mean the same thing.
Requirements to Join Berush Affiliate Program

You don't need to meet any special requirements before joining Berush.
The opportunity is open to bloggers, webmasters, PPC specialists, agencies, and "all-round marketing genius."
And, the best part is, you don't need a website to get started.
You can promote SEMrush products on social media. To your email list. Through PPC campaigns (be sure you understand the terms of use before going this route). Or on your YouTube channel.
Get instant access to free business templates + 12 months marketing and social media plans to grow your business in 2023.
How to Apply to BeRush
Applying to Berush affiliate program is straightforward. The accounts are pre-approved, which means no wait-time to get approved.
You can start promoting the solutions immediately.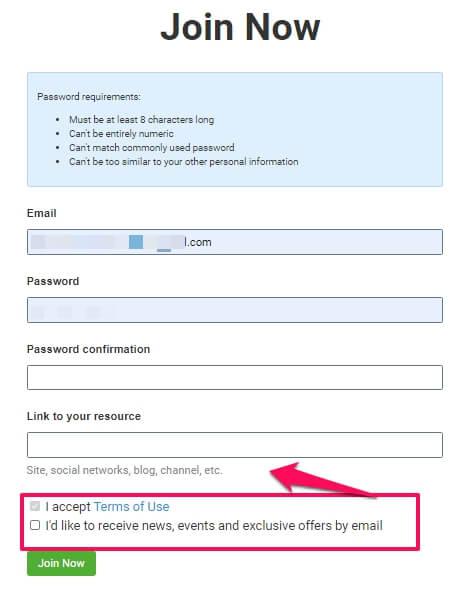 Features & Overview of the BeRush Dashboard

When you log into your Berush dashboard for the first time, one thing that hits you immediately is how clean, uncluttered, and well-laid out everything is.
Everything you will need is placed above the fold and easy to reach.
Your profile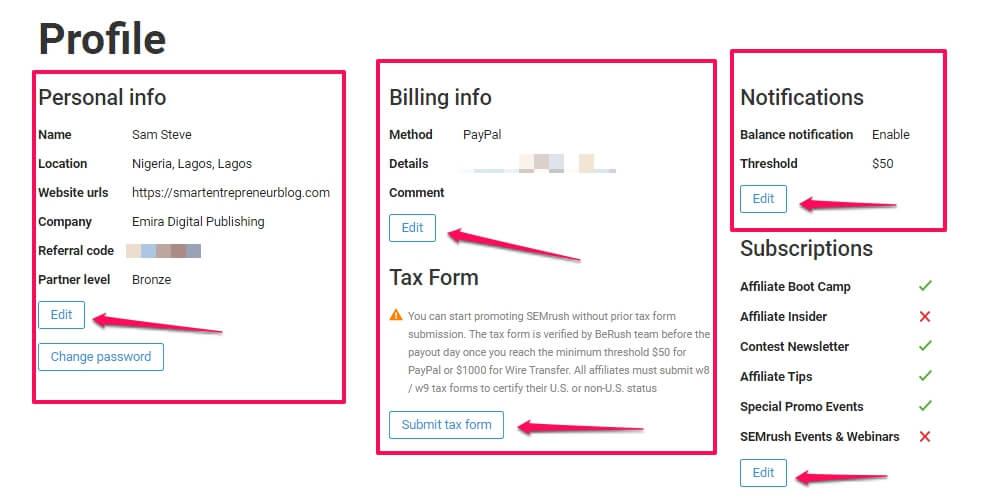 The Profile tab takes you to a page where you can edit your personal information. Add your preferred payment method. Read and upload tax information. Set payout limits. And, manage your Berush email subscriptions.
Your Affiliate ID
You can find your affiliate Ref. ID at the top right hand corner of the Berush dashboard. It is directly under the Log out tab.
Your Ref ID is a unique 10-digit identifier Berush uses to attribute traffic and sales to affiliates.
Payouts
On the payout page you get a quick view of when your next payment is due and the amount.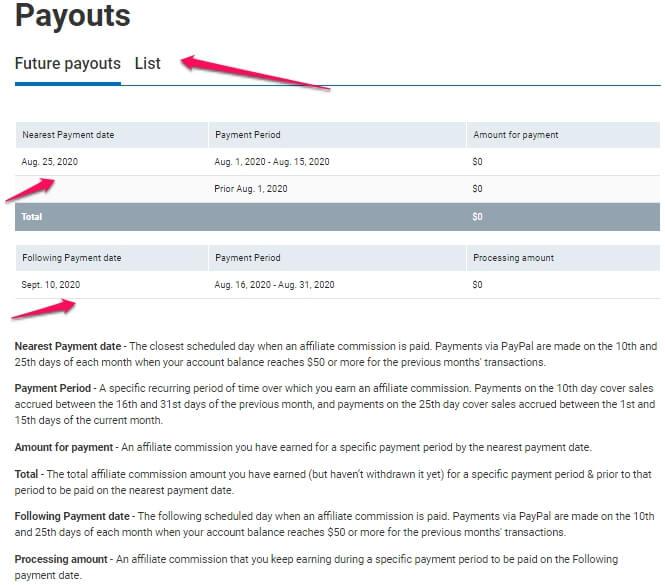 Statistics
Here's where you track every traffic you send to the SEMrush website. You can see the number of sales and recurring sales you have made. And, how much commission earned overtime.
Education Hub
The Education hub is an information center with all the material and tutorial you need to understand SEMrush's offerings.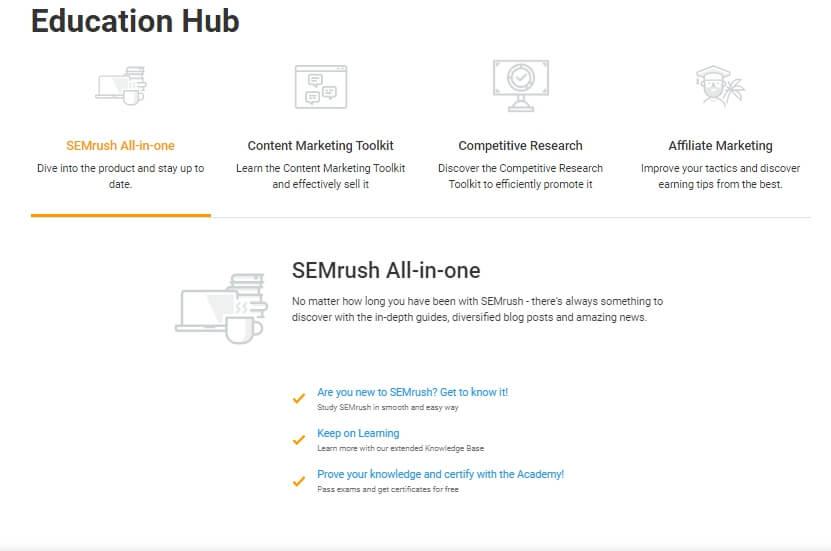 You can learn about all of SEMrush's solutions and the best way to sell them.
The content here are in different formats – webinars, blogposts, use case, and PDFs.
Promo Material
You can choose from a wide selection of promotional material to start recommending SEMrush to your audience.
From functional, offer-specific landing pages that are optimized for conversion, to a host of banners, widgets, ebooks and complete campaign packages to ease the setup process for you.
With the array of promotional material available, Berush certainly sets its affiliates up to succeed.
Incentives
The Incentives tab is just what it sounds like- a link to all the incentives Berush offers to their affiliates.
You don't only earn from commissions alone. As an affiliate you can boost your income by winning any of the regularly listed contests.

Yours truly is gunning for the monthly contest with this post.
FAQ
Have any questions about Berush program or your affiliate account?
No worries. Use the FAQ tab to quickly find answers to you concerns.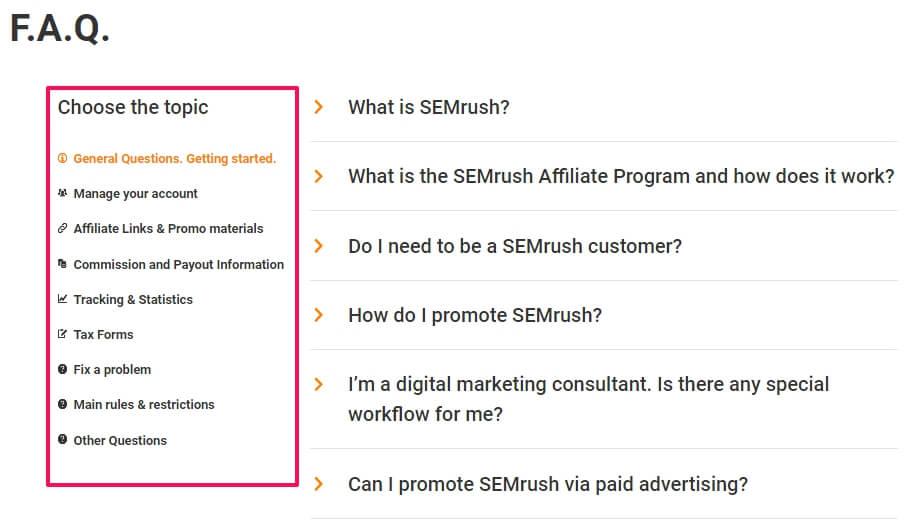 Still didn't find what you're looking for?
There's a contact form (email) on the FAQ page you can use. Expect to have your queries attended to within 24 hours.
Manual
Here you will learn about the 3-step process to start working with Berush.
Just like your regular user manual for new products, the Berush manual walks you through the necessary steps to get started.
Contests
You will find on-going contests here. The Berush team regularly updates the page with new contests.
You will learn about the contest theme. The conditions and requirements to enter the contest. And the deadline to submit your entry.
My Verdict on Berush features and Dashboard
Usability and simplicity appears to be at the core of the affiliate dashboard design.
And, just like me, I believe other affiliates are thankful for it.
At a first glance, one can see all the tabs which makes navigation super-easy and accessible.
Also, you get the sense that the Berush team spent quality time thinking about everything an affiliate would possibly need and set out to provide them – that to me, is the deal clincher.
Benefits of Joining Berush Affiliate Program
In real terms, what do you stand to gain by joining the SEMrush Affiliate Program?
40% Recurring Lifetime Income
For every sale you make, you earn a 40% commission.
The best part is, as long as the user continues to renew their SEMrush subscription, you will keep earning.
For instance, if a user lands on the SEMrush site through your referral link for the first time and purchases the Guru plan of $199.95. You earn $79.98 in commission.
Anytime, in the future, they renew their subscription and you earn another commission.
10-year, first-click cookie
Berush implements a 10-year tracking cookie that is attributed to you when a user first lands on the SEMrush site via your affiliate link.
So, even if it takes the user months or even years (as long as it is not more than ten years) to purchase a subscription, the sale will be attributed to you and you will earn a commission.
Sustainable passive income stream
Berush program is a proven way to earn passive income. Do the initial heavy-lifting once and earn income for life.
Done-for-you promo materials
Sign up and start promoting the SEMrush offers immediately. No need to create marketing material.
All the banners, landing pages, widgets and even ebooks you will ever need have all been provided.
Simply navigate to the 'promo material' on your affiliate dashboard, select your preferred promo material, copy the code, and start using.
For each promo material you select, you even get the option to customize it a bit to blend in with your overall site or platform branding.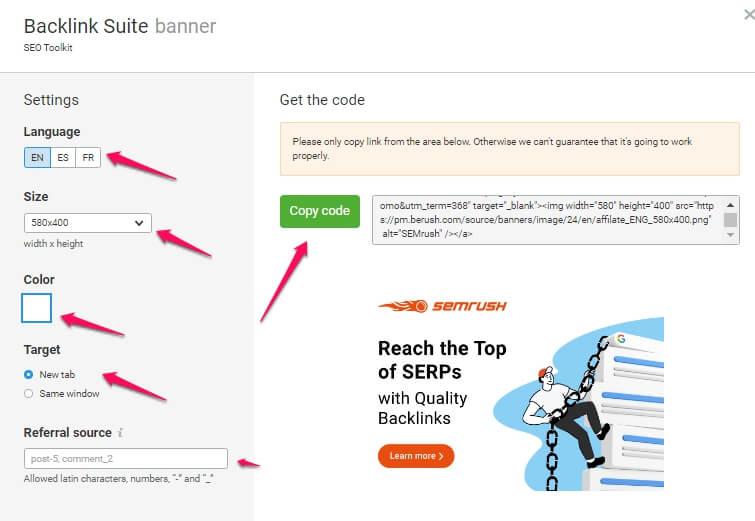 Super-responsive support
Though, I have not had any firsthand experience with the customer support personally.
I read reviews left by other users to get a sense of how responsive SEMrush customer support is.
First, I checked out their Capterra reviews. For those who don't know Capterra, it is an online review platform for software.
Here's what I found:

Still not satisfied, I headed over to G2 another online review site for software programs.
Here's what I found too: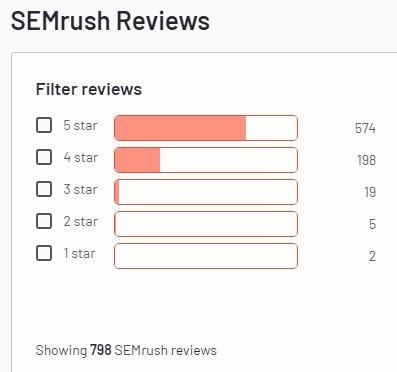 The average rating for SEMrush from these two sites is 4.5 stars.
Over 1700 professionals who left a review on these sites can't be wrong all at the same time.
So you can expect super-responsive support when you sign up as an affiliate.
SEMRush Affiliate Program Plans & Commission Structure
The SEMrush affiliate program is a 4-tier system or what they called a System of Partner Levels. It includes the Bronze, Silver, Gold, and Platinum partner levels.
The goal of the system is to motivate and acknowledge the efforts of affiliates.
You can enjoy all the features and benefits of the previous plan including the 40% commission on sale.
However, partners on Silver, Gold, Platinum levels enjoy additional perks the higher they go.
A weighted score point is used to determine each affiliates level. The formula used is:
Score = PRO * 1 + GURU * 2 + BUSINESS * 4
Where PRO, GURU, and BUSINESS are the total number of sales generated by a partner within 30 days.
See the additional perks and benefits for each partner level in the table below: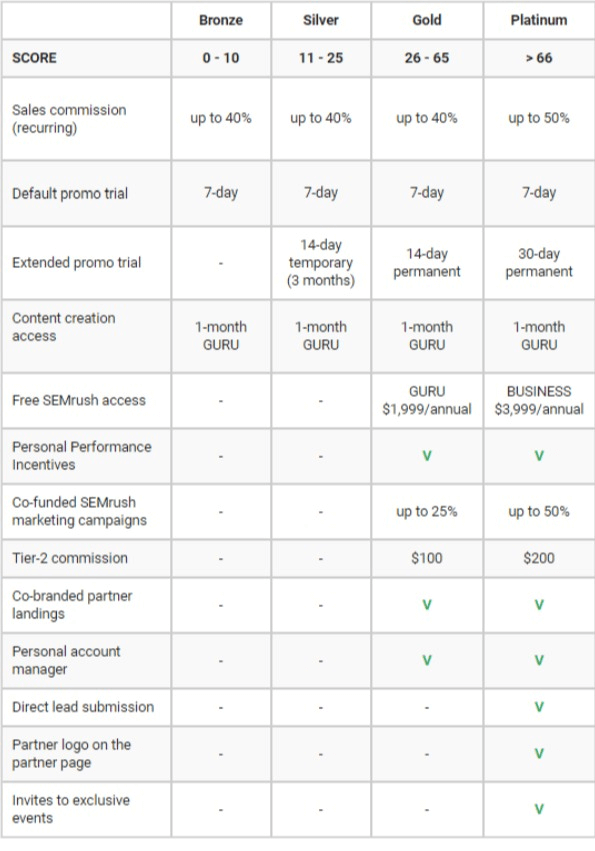 How do you get paid?
You get paid twice in a month. On the 10th and 25th of each month.
You can either receive payments from Berush via Paypal or Wire Transfer.
The minimum amount for Paypal is $50. And, $1000 for Wire Transfer.
However, before you can receive your commission, you will need to download, complete, sign, and upload a tax form.
You can find the tax form on your profile page.
Pros and Cons of BeRush Affiliate Program
Here are 10 things that stands Berush Affiliate Program out:
As an affiliate, you become a member of a global team promoting one of the world's most useful and robust marketing tools.
You earn 40% commission on every sale.
Long lasting tracking cookie that increases your chances of earning passive income.
Receive super-responsive support. And, as you grow, a dedicated affiliate officer.
In-depth educational resources to help you get up to speed with the SEMrush tool.
Earn more by winning Berush contests.
Transparent analytics dashboard to track every traffic you send to SEMrush.
Already-done-for-you promo materials to start promoting their offers.
Clean, easy-to-use affiliate dashboard.
Able to generate your own affiliate links, though you will need to email the Berush team the affiliate link to confirm before using.
However, there are cons as well:
At $99.95 for the starter plan, the SEMrush tool may be pricey for most beginners.
High minimum payout for wire transfer ($1000).
Limited payment methods. Berush only offers Paypal and Wire Transfer as their payment options. I found it extremely inconvenient, especially when you consider I can't withdraw funds directly to my local bank account. Adding Payoneer as another payment option would be great.
The downside to the 'sticky cookie' and first-click attribution tracking method is that affiliates will not earn a commission if a user had previously visited the SEMrush site before using the affilliate's referral link to make a purchase.
Should You Become an Affiliate?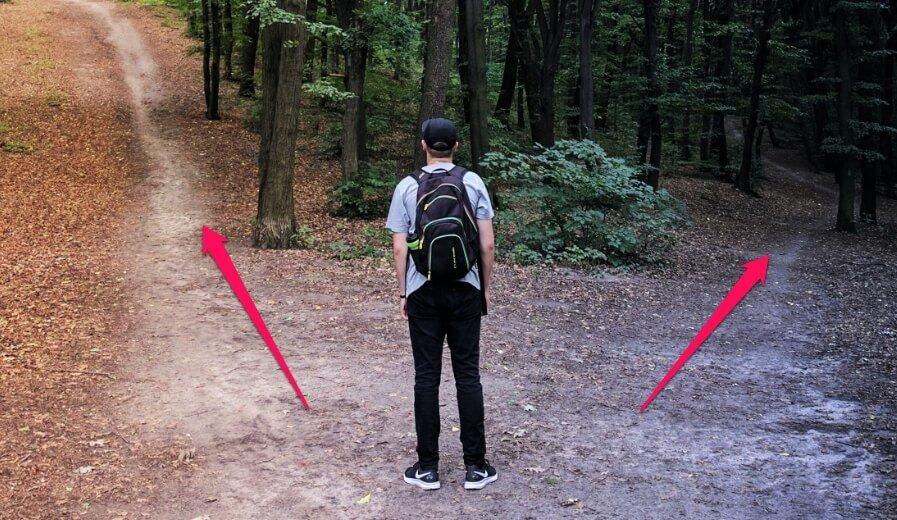 Decision time.
I honestly believe you should sign up to become a Berush affiliate. Sure, the decision is still all up to you.
The 40% commission is tempting and doesn't get better than this in the IM industry.
Also, the guys at Berush really went out of their way to ensure, every partner regardless of their skill level, can succeed with the program.
Take advantage of the in depth resources available on the Education Hub to gain deeper insights into SEmrush offerings.
Select from a wide collection of promo materials to set up your campaign.
And when you feel stuck or confused, contact their super-responsive support.
Or better still, join the dedicated Berush Affiliate Facebook community for inspiration from like-minded individuals on the same journey as you.
---
5 Proven Strategies to Promote SEMrush SEO Tools
Let's say you're ready to start promoting SEMrush SEO tool as an affiliate. But, you're a bit confused how to actually begin.
Berush has an 18-minutes, 3-part video series where they shared some ideas on the best ways to market the SEMrush SEO tool. You can watch the video here:
---
If however, you will rather read than watch the video, here's a quick run through of the ideas:
Publish valuable content on your site
Promote to your email subscribers
Shoot and upload tutorial videos
Promote on Social media
Write helpful ebooks
Before we unpack these ideas, here's a vital audience targeting strategy you may want to copy.
Due to the 'first-click' attribution model of Berush, chances are most people may already have a cookie from other affiliates installed on their system.
So even if they convert through your link they are not attributed to you.
What you can do however, is to target newbies and people just starting in the online marketing SEO niche.
This way, your odds of getting 'SEMrush virgins' through the door is higher than if you target generally.
That said, let's get into the meat of the other marketing methods.
---
Publish Valuable Content on Your Site
While it is not mandatory to own a blog before you can promote the SEMrush SEO tool. A site provides you a platform, which you own and control, where you can share your thoughts.
When you create relevant content on your site, you can include your affiliate links too.
Hopefully, your readers will love the content and click through to the SEMrush site.
Another reason blogging works well is because, when done right, you will keep receiving the ROI after many years of the initial work.
Some blog ideas you can create:
Detailed How-to content that dive into how your audience can perform site audits, do deep keyword research, and analyze their backlink profiles. Then recommend SEMrush as your preferred too.
Comparison posts. E.g SEMrush vs. Moz
Review Posts where you write about the features, benefits and cons of SEMrush SEO tool.
Promote to Your Email Subscribers
For every $1 you spend on email marketing, the average return on investment is $42.

Also, when you consider that customers say they want to hear from brands they trust every week, including email marketing in your promotion mix becomes a no-brainer.

To build a targeted, buying email list, consider creating an eBook or a course that is only delivered via emails on topics your audience care about.
Shoot and Publish Video Tutorials
Customers love to learn about new products by watching videos. 59% of executives (which are likely your ideal target audience for SEMrush) say that if both text and video are available on the same topic, they are likely to choose video.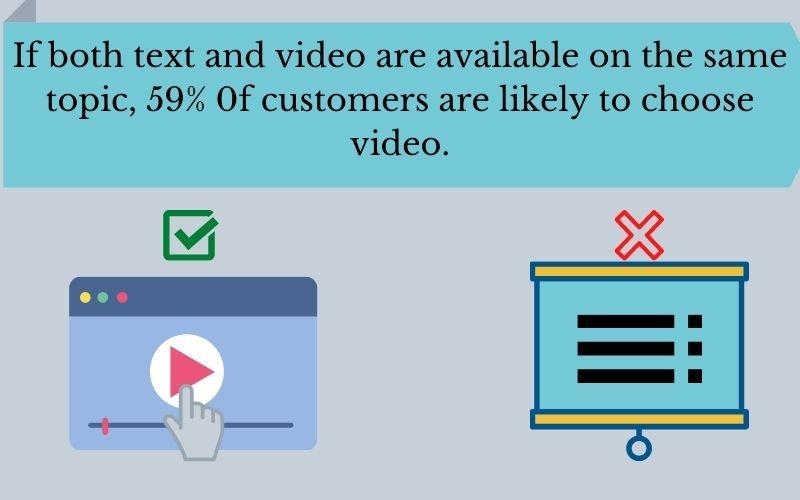 And, if you are wondering what type of video to create:
Videos demonstrating the product performs well. 64% of consumers make a purchase after watching a branded video on social media.
Use video in your ads. 46% of consumers act after viewing an ad.
Include video in your email marketing. A welcome email with a video receives an increased click-through by 96%
And, finally, marketers who use video as part of their strategy grow revenue 49% faster than those that don't.
Promote on Social Media
Use social media to create buzz for your offer. For a beginner affiliate social media is probably the easiest channel to drive traffic to your offer.
SEO takes time to kick-in. And, you may not have a budget for advertising yet. If you have a substantial social media audience, you can start promoting SEMrush offers to them.
Social media is the number two source of traffic for affiliate marketers at 67.32% only behind SEO at 69.22%.
And of course, 54% of your target audience are currently using social media to research products.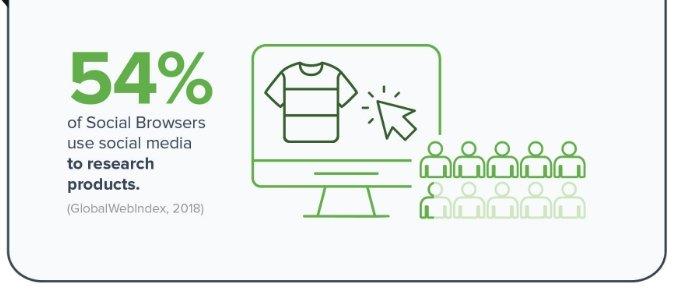 How do you use social media to promote SEMrush?
Number one rule – give value with your posts. Find the questions your audience are asking and provide answers to them or point them to the right place.
Dig into your audience analytics to uncover the optimal time to post your content. You want to be on their face 24-7.
Insert yourself in conversations going on around your industry and demonstrate your expertise.
Host live videos to discuss issues your followers care about.
Run giveaways and social contests where it makes sense.
Like Gary Vaynerchuck said, "Give. give. Give. and then Ask." Social media is about building relationships. Focus on that.
Give Away A Free Ebook
Free ebooks are with doubt one of the fastest ways to build an audience.
People love free gifts. And when it's a topic they care about, they will fall over themselves to get it.
Thankfully, you don't even need to write the book yourself. The Berush team already has a library of valuable and timely ebooks you can offer your audience.
If, however, you choose to create the ebook by yourself, here are some pointers to keep in mind.
Focus on a Specific topic. Don't try to cover so many areas in one book.
Keep the ebook short and sweet.
Be sure to provide real value in the book
Add your affiliate links where it makes sense.
When done right, these 5 proven methods will enable you successfully promote and start earning commission from Berush affilate program.
Final Verdict on SEMRush Affiliate Program
I started out this SEMrush affiliate review with a set of criteria. How well, did the program perform?
On recurring and decent commission the program scores high. A 40% commission on every sale is as good as it gets.
As we have seen from other people's reviews, SEMrush appears to offer super-responsive support for users and affiliates alike.
The onboarding process is super-smooth. Affiliate dashboard is neat, uncluttered and easy to use.
There is a ton of educational resources affiliates can utilize to learn more about the product.
Berush also provided an 18-minute long video on their YouTube on how affiliates can market their product.
And of course, affiliates have access to a wide range of pre-made, optimized for conversion, promo material to ease their marketing.
Aside from the limited payment options (would have loved a Payoneer option too) and first-click, 10-year attribution model with its drawback,
the SEMrush Affiliate Program would have received a 100% score from me.
Which program doesn't have its drawbacks, anyway?
In all, SEMrush Affiliate Program is a great way for affiliates to promote a killer product while earning generously from it.
You may like:
---
Frequently Asked Questions
Does SEMrush Affiliate Program Offer Recurring Income?
Yes. The Berush affiliate program offers a 40% recurring income as long as the user keeps renewing their subscription.
What are the available payment methods?
Paypal and Wire Transfer.
Can you change payment options?
Yes. You can edit and change your preferred payment options. Navigate to the 'Profile' page. You will see an 'edit' button to change your preferred payment method.
What is the first-click 10-year cookie about?
The first-click' 10-year cookie is a 'sticky cookie' tracking method Berush uses to attribute traffic and sales to affiliates.
The unique 'first-click' attribution model means only users who have never visited any part of the SEMrush site are attributed to affiliates.
The 10-year cookie means, Berush tracking cookie has a 10-year lifetime.
How do you get your affiliate link?
Your affiliate link is located on the top right-hand corner of your screen when you login to your Berush account.
Your affiliate link is already included in the promo material. Simply copy the code and use.
Can I generate Affiliate links by myself?
Yes. You can generate your own affiliate link. Navigate to the 'PROMO Material' page. Click on the "Links' tab. Scroll to the end of the page, you will see a clickable 'Generate A Link With Your REF ID to Any SEMrush Page'. FOllow the link to generate your unique link.
However, be sure to email the Berush team the link to confirm before using.
Why do I need to fill the affiliate tax form?
Berush can only pay out your commission after you have completed and submitted a duly signed tax form.
Is SEMrush Affiliate Program the best referral program with Lifetime income?
Well, that is hard to say considering there are a bazzillion of other affiliate programs out there. However, the Berush program is easily One of the best referral programs with lifetime income.
How do I activate my Berush account?
After signing up. Check your email and click on the link sent to you by Berush to activate your account.
How do I track my affiliate statistics?
Login to your account and navigate to the 'Statistics' tab, you will see how much traffic you send to SEMrush site, the sales and rebilling and every other data you need to know.
The data refreshes every 24 hours.