Looking to outrank your competition? Our complete guide to advanced HVAC SEO strategies covers everything you need to know to improve your search engine rankings and attract more customers. 
---
Ranking your HVAC business on Google is more challenging than it sounds.
The massive competition and search engines' regular algorithm updates make dominating the search result page more difficult. So to maintain your position on SERPs, you must adjust your strategies to these updates.
Several brands try to pull this off with traditional SEO strategies. However, in my experience, advanced SEO strategies are more effective. 
These are not your everyday SEO tactics. As a result, many HVAC SEO professionals in the United States don't know about them. But that shouldn't be you. 
In this post, you'll learn how to implement these strategies to outrank your competitors.
So, let's begin.
You Might Also Like: Business Growth Strategies: Top 10 Ways to Grow Your Business this Year
Advanced SEO Strategies For HVAC Contractors
Advanced HVAC SEO strategies are too technical; as a result, most HVAC website owners shy away from them, leaving a lot of dollars on the table. However, some hire SEO companies—a venture that costs between $1,000 to $1 million. 
But you can spend less and save money with the strategies discussed in detail below:
1. Build Domain Authority With Google Entity Stacking
High domain authority helps establish a website's credibility, which is essential for businesses looking to dominate the search results and attract qualified prospects.
You'll need several backlinks from high-authority domains to achieve this. However, this is not a walk in the park. But by leveraging the high authority of Google properties, you can quickly build your domain authority.
And this is what Google Entity Stacking is all about.
It's an advanced SEO technique that involves creating multiple web properties on Google-owned properties and interlinking them to create a network of entities that reinforce the relevance and authority of your website.
These properties include:
Google Docs
Google Sheets
Google Calendar
Google Maps
Google Forms
Google Slides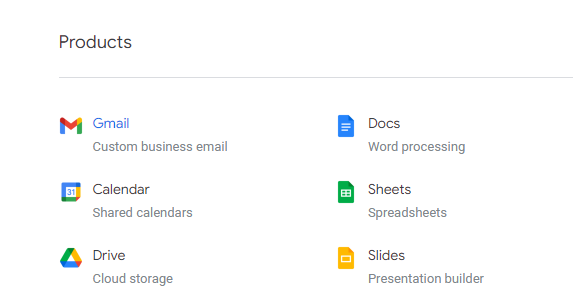 The advantage is that the above platforms are native to Google. 
So it's easy for the search engine bot to crawl and index their links. And, of course, these Google platforms have high domain authority.
Here's one way to approach Google Entity Stacking: 
First, create a folder on your Google Drive and name it with a keyword.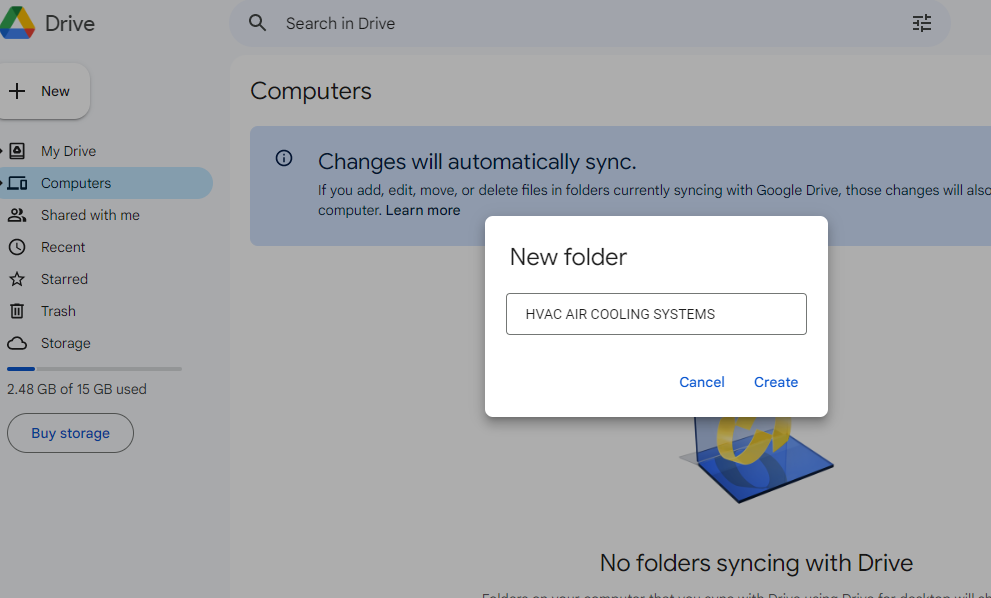 Next, create a Google Sheets doc in the folder and name it with the same keyword.
In the Google Sheets doc, input information about your HVAC company. Information like business name, URL, contacts, and social links.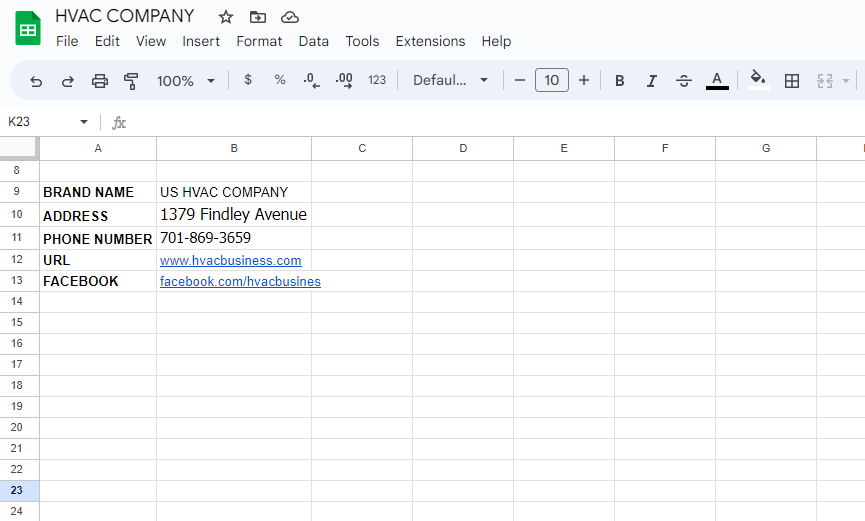 You can add other data and links from Google properties — like Doc article link, your address on Google Maps, your contact form on Google Forms, etc.
When done, switch the Google Sheets doc to "Anyone can view."

Then embed the link on your Google My Business Site.
Google entity stacking can be risky if not done correctly. So, approach the technique with a strategic mindset rather than trying to game the system for quick results. You can email us at sam@smartentreprenuerblog.com if you need assistance.
Recommended For You: Gain powerful, actionable on-page optimization insights with Surfer SEO to outrank your competitors and dominate the organic competition.
2. Leverage HVAC Schema Markups
Schema markup is the language search engines understand when it comes to structured data. And with structured data, content on your HVAC website becomes easy for search engines to read.
The HVAC schema markups your website needs include the following: 
HVACBusiness Schema
FAQs Schema
BlogPost Schema
Product Rating Schema
Person Schema
AreaServed Schema
We have found, from applying the above markups, that it increases visibility on SERPs.
One example with FAQs Schema is that your content gets to feature on rich snippets like the "People also ask" section on Google. See example:
Many online generators exist to create different schema markup HTML codes. Afterward, you can inject them into your website using Google Tag Manager.
We have written extensively on schema markup for HVAC companies. You should check out the article.
3. Implement Google E-E-A-T In Your Content
Content is king and should be an integral part of your HVAC SEO strategies. 
About 72% of digital marketers believe that content marketing increases customer engagement. Another 72% confirm that it increases leads.
To enjoy these benefits, you must create content the search engines want. Google recently added an extra "E" to its E-A-T quality rater guidelines, making it harder to please the search engine. 
E-E-A-T refers to "Experience, Expertise, Authoritativeness, and Trustworthiness."
When I implemented the new E-E-A-T model, we noticed a surge in our content ranking and organic traffic. It'll work for your HVAC website, too.
Action these tips to get it done;
Build topical authority using a pillar-cluster content model 
Publish a comprehensive About page, privacy policy, and contact pages. 
Show more experience in your content — with proof to back it up
Publish guest content from other experienced HVAC experts on your website 
Invest more in building a solid audience on social media 
Update and repurpose old content that doesn't show E-E-A-T
Use schemas in your articles
4. Optimize Your Content With SEO Entities
SEO entities are dubbed "the secret weapon of top SEO experts." 
Not many HVAC experts include them in their strategies as they're highly technical. However, if you optimize your content with SEO entities now, you're a step ahead.
SEO entities pay less attention to keywords and more to things (entities).
For instance, you publish a post on "10 Signs That You Need To Replace the Air Conditioner in Your Home." Your target keyword could be "Replace the Air Conditioner in Your Home," meanwhile the entities are "Air conditioner "and "Home."
One way to inject SEO entities is using "Thing" structured data. Using the above example, you can add "Air conditioner "and "Home" as the about property to the BlogPost schema of the web page.

That'll help Google better understand the entity you're writing about. 
Use this free online tool to find SEO entities in your articles and create the JSON-LD Schemas you can inject into your page's HTML. It's our go-to tool for SEO entity generation. 
Another way to inject SEO entities is through entry linking—linking to knowledge base pages (e.g., Wikipedia). For instance, if you write about the topic in our example above, you can link to the air conditioner Wikipedia page. 
SEO entities structured data and entry linking are advanced HVAC SEO strategies known as semantic publishing.
5. Build Entity-Based Backlinks 
You can implement entity-based backlinks as a follow-up to optimizing content with SEO entities. It's a relatively easy advanced HVAC SEO strategy and not much different from basic link building.
First, you need to find guest post opportunities on high-authority websites. Then create quality HVAC content to publish on these sites.
In particular, the guest content must revolve around your essential entities. That way, you can particularly link to your entity in the article. And when it's published on the guest website, you get an entity-based backlink.
It's easy, no doubt. But, in my experience, the most challenging part about making this work is identifying the right HVAC-related websites to publish on.
Nevertheless, a tool that works is Adsy. It's my favorite tool for finding guest posting opportunities. And with Adsy, you get thousands of high-DA websites to contact.
6. Optimize Your Web Core Vitals
Web core vitals affect the overall user experience on your HVAC website. 
It's so important that Google has a PageSpeed Insights API specifically to help website owners with optimization. The primary areas include: 
Page loading time
Interactivity
Visual stability 
To optimize your web core vitals, launch the PageSpeed Insights tool and enter your HVAC website URL. Hit "Analyze."

In seconds, the tool will inform you whether your website passed the assessment. Here's an example of what you get: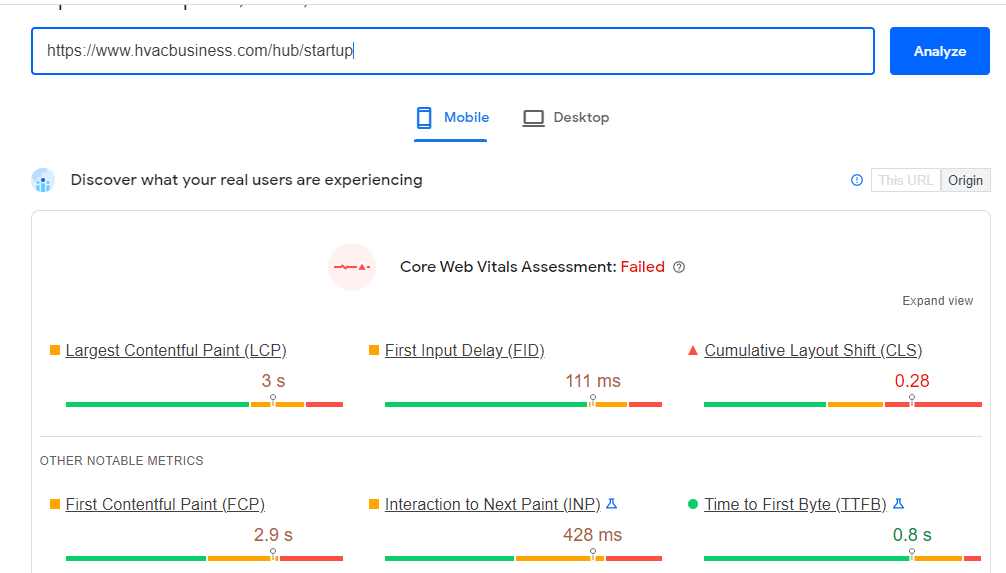 If "failed," you'll also find details about the areas where your website performs poorly. You can also diagnose performance issues and use the insights to start optimization.
7. Add Quality Video to Your HVAC Website
About 91% of customers demand more video content from brands. So, you can't afford to leave video out of your marketing mix.
You can publish quality videos on product reviews, guides, how-to, and other content showing your HVAC industry expertise. These will help your website rank, particularly in Google's video search section. 
See example: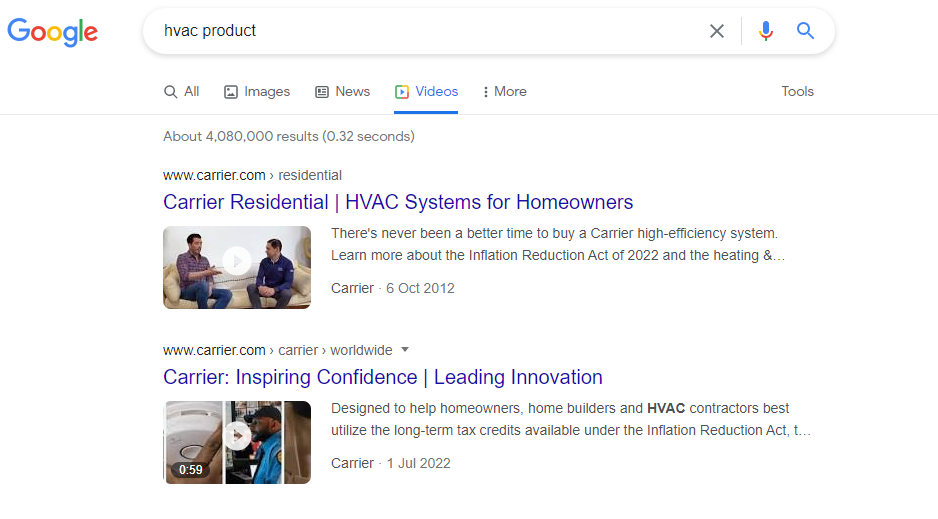 Notably, this HVAC SEO strategy isn't easy to implement. 
A tool like Lumen5, for example, can easily convert your blog posts or other written content into video. You only need to paste the page URL.
Need More Sales Leads? Discover how to convert your website traffic into qualified leads and paying customers with Collect Chat.
Advanced SEO for HVAC Companies: What Next?
After implementing SEO strategies, whether advanced or basic, monitoring comes next. It's essential to monitor what you're doing to be sure you're doing it right and getting results. And you can do that with Google Analytics, among other tools. 
Also, be vigilant of the HVAC SEO space. Trends change, and new strategies take over from time to time. So you should be handy to adjust accordingly as well.
Hand-Picked For You:
HVAC SEO Frequently Asked Questions 
How does basic HVAC SEO differ from advanced SEO?
Basic HVAC SEO primarily involves fundamental SEO tactics to get your website noticed by Google. These include tactics like keyword research and optimization, link building, and making the site responsive on different devices.
Advanced SEO, on the other hand, involves more technical SEO tactics to improve ranking. These include tactics like implementing Google Entity Stacking, HVAC scheme markup, and optimizing web core vitals. 
Do HVAC companies need SEO?
Yes, HVAC companies need SEO for their websites to rank on Google or other search engines. Ranking on search engines means more visibility. More visibility means more website visitors. More website visitors mean more potential customers — and this means more income.
Can I outsource my HVAC SEO?
Yes, you can outsource your HVAC SEO if you don't have the time and expertise to implement the strategies yourself. However, note that SEO costs an average of $100 to $200 in the United States. 
How do I create an HVAC SEO strategy?
You can create an HVAC SEO strategy by starting from the basics. First, perform keyword research, optimize your website with the keywords, build backlinks, and ensure your website is responsive. Then, you can move to the advanced SEO techniques discussed in this article.
How do I track my HVAC SEO performance?
You can track your HVAC SEO performance using analytics tools, among which Google Analytics is the best. Google Analytics is free, and you can connect it to your website, irrespective of the CMS you use.