Use this 12-months marketing plan template to organize your marketing efforts for 2020.
In a couple of weeks, 2019 will wind down. For most businesses and marketers, it is a time to reflect on the past 12-months and to set new goals and targets for the coming year.
One area that will definitely get a look-in is marketing. For most marketers, it will be a time to answer the question:
How well did our marketing plan for the year go?
Where we able to achieve the milestones we set for the year?
what channels were the most effective?
What marketing format did our customers respond to more?
with the answers to the questions above, they will not fine-tune their marketing plan for the coming year.
If on the other hand, this is your first time of creating a marketing plan, you may want to get started with a marketing template.
A great place to start is with a 12-month marketing plan template that covers all the relevant sections plus has fields where you get to outline the steps and actions to be accomplished in order to hit your objectives.
While there are several templates online you can use, I've found over the years, using a simple one-page plan does the trick for me.
Here's a quick down of the elements of our 12-months marketing plan template: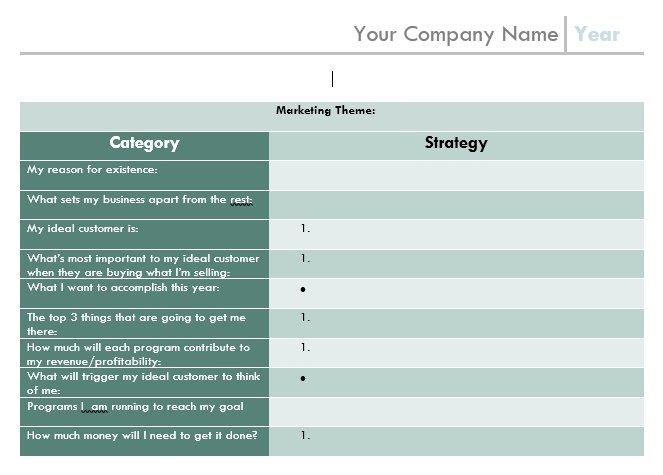 My reason for existence:
Here's where you write your executive summary. Outline why you started the business.
What sets my business apart from the rest?
Identify your value proposition and unique selling points here.
What're the most important things to my ideal customer when they are buying what I'm selling?
Here's where you outline the specific problems your services/products are solving.
Before you write anything here, you need to have studied your target audience thoroughly to understand them.
Read up on: how to identify your target audience.
What I want to accomplish this year:
Here's where you list your marketing goals. Be sure to set metrics to track your progress and also a time frame for each of the targets.
An example of a marketing goal could be: to grow our subscribers' list by 30% in the first quarter.
The top 3 things that are going to get me there:
How do you intend to achieve the goals you set above?
Be as specific as possible, list all the tasks you need to accomplish to hit your targets. Identify relevant resources you would need.
How much will each program contribute to my revenue/profitability?
It's important that you tie each of your marketing goals to your overall business objectives.
Here's where you answer the question of why you want to achieve your marketing goal.
What impact would the results have on your business goals?
Back to our illustration, you need to quantify how much revenue growing your subscribers' list by 30% will contribute to your business.
What will trigger my ideal customers to think of me
Your answer to this section should come naturally from your understanding of your ideal customer.
You will need to co-op these triggers into your marketing campaigns.
Here's an illustration to give you a clearer idea of what you need to do in this section. There's this coca-cola video ad I saw recently, in the clip a lady is shown working out, she was all sweaty and looked really tired.
In the next scene, someone offered her a chilled can of coke which she enthusiastically accepted.
The trigger for most coca-cola drinkers is thirst – whenever they get thirsty, after a workout, they want to take coke.
The objective with this section is to identify those triggers and try to integrate them into your marketing material.
What programs am I running to reach my goal:
You will need to list the campaigns, tasks – everything you're currently doing to attain your goals here.
How much money will I need to get it done?
Finally, here's where you set the budget of how much money you will need to execute the marketing plan.
Setting a marketing budget should come last so that you would have covered everything that needs to be covered and listed out all the resources you'd need to successfully prosecute the campaigns.
Some things to put into consideration include:
How much do the tools you need cost?
Would you need to recruit new staff?
Follow us on twitter