Get inspired with these 93 inexpensive client gift ideas for small businesses.
Customer retention is just as necessary, if not more crucial, than marketing and other strategies to attract new buyers to your business. Your clients, especially repeat customers are the force that moves your business forward — without them, you'd been out of business a long time ago.
As you probably know, it's not just enough to attract new customers; you also need to keep them coming back again and again.
Quality service, keeping your word, and world-class responsive customer service are ways to retain your clients. But, if you want to turn them into loyal, raving buyers, you will have to do something extra.
Buy them gifts. Who doesn't like receiving gifts? And, if you can crack the code of giving thoughtful gifts without breaking the bank, you will have them loyal to your brand for a long time.
You may like this: How to make emotional connections with your customers
That said, small businesses often feel obliged to give clients and customers gifts to show appreciation for their year-long support. This sense of obligation is usually due to the smaller, tight-knit nature of the business.
Perhaps you have a client who has stayed loyal since day one or an employee who has worked extra hard. Or you want to thank your customers for the year-round purchases that have kept your business going.
Are you stuck deciding what gift to give your clients this holiday season? Scroll through our list of twenty inexpensive gift ideas for your clients this holiday season for inspiration.
RELATED: Tips on how to give great year-end gifts your clients will love.
Top Inexpensive Corporate Gift Ideas for Small Businesses
Here are some inexpensive gifts you can get for your clients this Christmas. You can use the links we added if you're wondering where to order them.
1. Personalized Mugs
Personalized mugs may seem predictable as most clients receive gifts with the sender's logo or business name.
Make your cup stand out by personalizing it for your client, with their name or a message for them.
The mug is a thoughtful gift for which you don't have to break the bank, and your client will surely love it.

2. A Gift Basket
The fun part about a gift basket is that you can fill it with almost whatever you want, and make it unique to each person.
Is your client a vegan enthusiast? Present yourself as thoughtful and stuff the basket with vegan-friendly foods. Make your gift stand out with a friendly, personalized note.
3. Power Banks
We all know and appreciate the struggle of keeping devices charged up while traveling or on the go.
With these portable chargers, your client can rest assured that a low battery will not get in the way of getting any business done.

4. Personalized Journals
Your hectic, packed day and forgotten appointments should give you an idea of how helpful a day planner would be for your client. Personalize it with your client's name or a sweet note.
5. Funny Gift Items
Although you are careful not to toe the line or be inappropriate with your client, a little joke never hurts anyone. Gift your clients with items that include a touch of humor that reminds them not to take things too seriously.
6. Fitness Gifts
Gift your clients with fitness tools for long-term satisfaction. If you are unsure what they would like, you could sign them up for a fitness program.
Other thoughtful gift items include fitness tracker armbands, supplements, and a gift card for a fitness consultation.
7. The Gift of Giving
Still unsure about what to give your clients? Stay safe and donate to a charity cause you know they love in their name.
This way, you give a double gift. Your client would be touched that you remembered something they are passionate about, and the cause would benefit from your gift.
8. Sleep Wear
You read that right. We accept that sleep is one of the most effective stress relievers. What better way to ensure your client gets a good night's sleep than by gifting them a pair of comfortable nightwear?
9. Handwritten Note
This gift may seem more intimate or a bit too simple for a client but with the age of technology and Instant Messaging, few presents are more unique than this.
Draft out a heartfelt, thoughtful note of appreciation, encouragement, or even just a reminder of how important your business partnership is.
10. Alleviate Stress
It is the 21st century; everyone is stressed out. Workers are stressed out; even pre-schoolers are stressed out.
Your client is dealing with as large a workload as you and with that comes stress. Give your client the best gift they could get by lifting off some stress.
If you're willing to splurge a little, you can go as far as signing your client up for meditation classes with a private instructor.
11. Valuable Books
Enrich your client's professional or personal life with a great book that provides value. You would be surprised at how useful your client finds your book.
So, next time you come across a great book, take the time to take note of the title. Then, you can get a hardcopy for your client or send a softcopy to them.

12. Unique Cookies
Customize a batch of cookies, and ship them down to your client. It might seem like a reasonably simple, undeniable sugar treat, but the truth is there is hardly any person who does not like cookies.
Get your clients' unique cookies customized in the shape of their logo, your logo, or some other design.
13. Flower Bouquet
Flowers are not just for lovers or friends. Create a beautiful flower arrangement to show your client appreciation. You don't have to worry about going over the top or misrepresenting your company.
A flower bouquet is also a great gift to deliver to your client. Add an extra personal touch with a little note.
14. Spa Gift Card
A spa gift card, because who doesn't love a little pampering, right? If you cannot arrange for a masseuse to pay your client a visit at home or work, take the safe lane by gifting them some relaxation time in a card. This way, they can cash in at any time or convenience.
15. Personalized Items
Sure, branded gift items are all the rage now, with every t-shirt and mug now bearing some personalized message. Stand out with your gift by customizing more unique items.
For example, a bottle of rich wine, or how about chocolate with your company's logo all over it? Or even a handy flash drive customized to suit your client's needs.
16. Leather Mouse Pad
Certain items with the corporate name monogrammed are excellent. However, a corporate present doesn't always have to be overt; in other cases, staff members may value the adaptability of a classic item.  
Go for a useful, fashionable leather mousepad with a microfibre carrying case. It's also one office tool that is sure to boost productivity.

17. Seat Cushion
Sitting all day at a desk can become intolerable over time, especially when confined to an uncomfortable chair. 
You probably have that coworker who complains every time of being sore after several hours of sitting. Why not buy them a seat cushion to be more comfortable while working? 
That way, you're doing something special for them and boosting their productivity at work.
18. Coffee Flask
Coffee flasks are a great corporate gift because they can keep beverages warm for long periods of time, and you can always have a refill without needing to leave work for a few minutes. 
Do you know anyone that loves coffee? Buy one for them and see how much they love it.
19. Water Bottle
Working for extended periods leads to dehydration, and getting up to grab a cup of water can sometimes interrupt workflow. Here's where a water bottle comes in.
Water bottles also come in handy for staying refreshed during hot days. Consider buying one when buying a gift for a coworker.
20. Block Puzzle
Want your office friend to be creative even during work breaks? Buy them a block puzzle. 
The mind needs rest after several hours of working nonstop, and a block puzzle is one of many ways to relax the mind while still keeping it active.
You can also solve these puzzles together with your coworkers.
21. Mini Back Massager
Backaches and stiff shoulders are common problems in the workplace. They usually come from sitting and leaning in for too long, and stretching doesn't always give the needed relief. 
Does your boss complain about these issues? Get them a back massager, and you might just earn yourself an early promotion.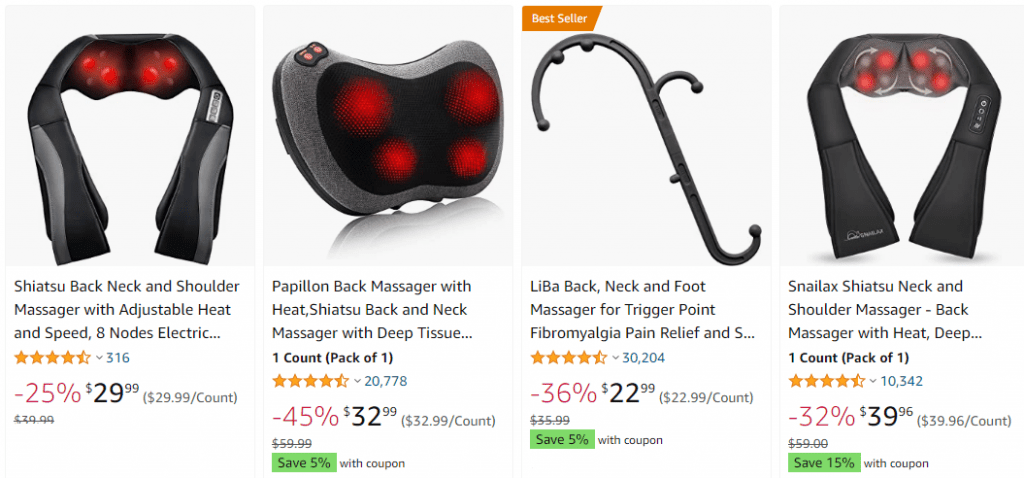 22. Tie Clip
Ties are common among most office workers. 
If you're skeptical about getting someone a tie because you don't know what they love, you can get them a tie clip. 
Get one with their name on it, and watch them grin effortlessly.
23. Mug warmer
Mug warmers are tiny plates your mugs sit on to keep the liquid they're holding warm. 
Sometimes you get so caught up in office work that your coffee goes cold, and you must toss it away and get a refill to avoid drinking a cold beverage. 
While getting yourself a mug warmer, get one for a colleague you know who also hates drinking cold coffee.
24. Magnetic Key Holder
Is your coworker always misplacing their keys? Buy them a magnetic key holder, so they never forget their house keys in the office again.
Some magnetic keyholders have straps that you can fasten to belt loops.
Undeniably useful, isn't it?
25. Custom Legos
Building Legos is a fantastic way to overcome your office stress during your lunch break. A creative way to let off some steam.
26. Desktop Punching Bag
Dealing with a boss who breaks things when he's angry? Get them a punching bag.
Next time they want to let off some steam, the only thing getting punched will be their desktop punching bag.
27. Foosball Table
Foosball tables aren't easily mobile, but with one in an office, coworkers can spend time together playing a game. Even your clients might stay around for a game.
This gift encourages bonding at work.
28. Herbal Tea kit
This kit aids in making herbal teas effectively. 
Buy one for someone you know who drinks a lot of herbal teas, probably because they're trying to lose weight or just because they prefer tea to coffee. 
With the kit, they'll have access to various herbal beverages and the means to make them easily.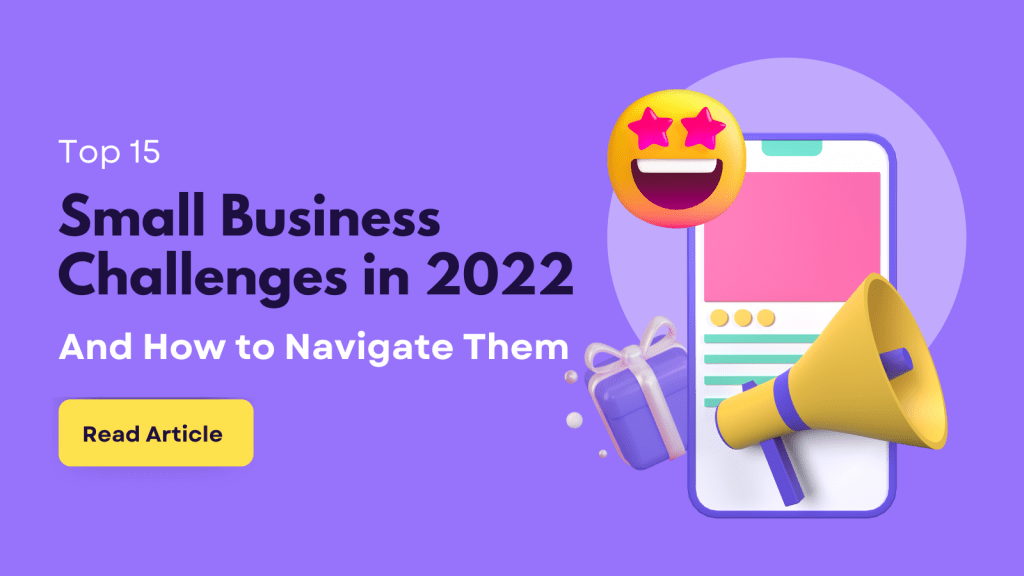 29. Portable Phone Charger
Everyone hates leaving home with a low battery, and borrowing a charger sometimes seems like a chore, especially when you're in unfamiliar territory.
A portable phone charger would be the perfect gift you could get for that coworker of yours who always forgets to charge their phone before coming to work.
30. Chess Board
Chess is a commonly played and enjoyed board game. 
A chess board doesn't cost much but can be useful for recreational games during free time or as an aesthetic piece in the office. 
Consider getting one for a coworker or client you know who is crazy about board games. Sometimes they'll even invite you for a game or two.
31. Coat Hanger
People often wear long coats and jackets during long weather to keep warm. The only caveat is that they struggle to find a place to hang them. 
Coat hangers are one of the few needed things that are available in workplaces. So, employees struggle with finding spots to hang their clothes.
You don't have to buy a rack. A simple wall-attachable coat hook can ease your colleague's jacket hanging worries.
32. Electric Coffee Kettle
Having a coffee kettle at your disposal is such a convenience. You don't have to leave your office to get a warm cup of coffee with one. You can make your beverages beside your office desk if you have a power source near you. 
Such a thoughtful gift for your coffee-loving friends.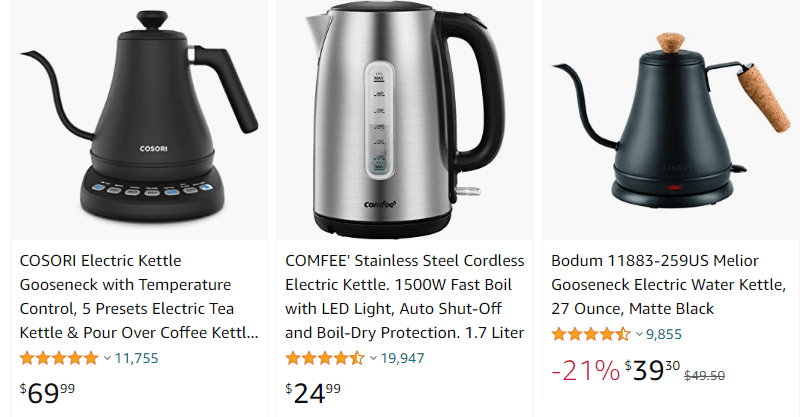 33. Branded Pen
Pens are casually used items. So, how do you make a simple ballpoint tool special for someone?
It's simple. You ensure it contains your initials. 
Whenever your clients take out a pen with your company's logo branded on it, they'll always remember the day they received the gift from you.
Now, you're in their hearts.
34. Custom Note Pad
Notepads are awesome for keeping track of upcoming events and organizing a to-do list. 
Your clients will never miss a meeting with you once they've added it to their to-do list on the notepad you gave them. 
And as a bonus, they'll always remember your firm whenever they take out their notepad to write.
35. Fitbit Smart Watch
If your colleague is trying to keep fit, assist them by gifting them a Fitbit smartwatch.
This will help them monitor their heart rate, track workout routines with the help of a mobile app, and even count steps.
These watches also let you read phone messages without holding your device.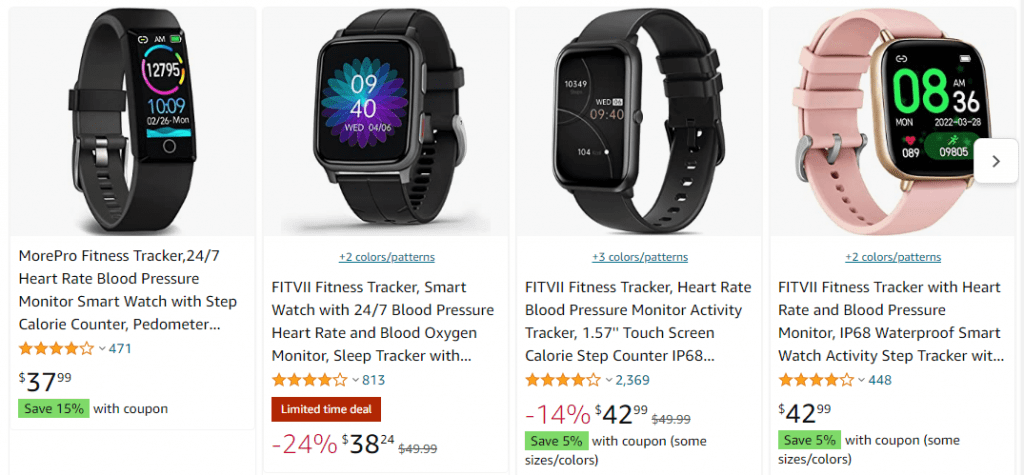 36. Audible Subscription
Know a client or co-worker who loves to read but is too busy to finish a book?  
Why not get them an audible subscription with which they can listen to books instead of reading them? 
Audible lets you do this comfortably. Now they don't have to worry about creating time to finish a book.
37. Grammarly Subscription
Grammarly is a popular writing assistance software that helps writers correct grammatical errors and makes their work readable and easier to understand.
A Grammarly subscription is a fantastic way to boost productivity among your employees. Now they won't have to worry about spelling or grammar mistakes.
38. Comfy Slippers
Wearing shoes for extended periods can sometimes hurt the feet. 
To prevent sore feet, you can consider buying a slipper to wear while sitting behind a desk and not planning to move around anytime soon.
While you're out shopping for a comfortable slipper to wear to work, don't forget to get one for your coworker.
39. Alarm Clock
Want to help your employees keep track of time and set reminders for important daily activities?
Here's where an alarm clock comes in handy. 
These clocks can also prevent them from oversleeping during their lunch breaks. Very useful.
40. Floating Console Table
Give your work partner a floating console table and watch how you've helped them free up some work table space by giving them a place to hold momentarily unneeded items like keys, mugs, etcetera. 
Consoles can also function aesthetically to hold flower vases, trophies, lamps, and other decorative pieces.
41. Anti Glare Glasses
Ever seen computer operators wearing glasses? Most of these eyeglasses aren't medicated; they're anti-glare ones.
Anti-glare glasses protect your eyes from harsh screen rays, which can cause eye strain. 
This gift is suitable for an individual you know who spends most of their time working in front of a computer screen.
42. Handkerchief Set
Colds might affect certain people more frequently than others. Give them a set of handkerchiefs so they won't have an excuse the next time they sneeze on their bare palms.
You can also use a hanky to wipe away sweat, as a washcloth, a snack bag, etcetera.
43. Pocket Fan
It's hard to work on hot days. Pocket fans are useful in these situations, and they're convenient. 
A pocket fan is one of the most thoughtful gifts you can give a colleague or client you know sweats a lot With a full charge, they can have several hours of cooling. They can also use it whenever they want, wherever they find themselves.
44. Mini Basketball Hoop
A typical basketball fan would love to throw some balls regardless of where they are. It puts them in a good mood.
You can always get a mini basketball hoop for your basketball-loving colleague's office wall so that whenever they're stressed out, they can shoot some balls to relax a little.
45. Branded Frisbee
Throwing a frisbee is a fun way to relax at work.  
Gifting someone a frisbee might seem like something you'd do in kindergarten, but it isn't unusual if given to a work friend. After all, you can toss it at each other while talking during your lunch break.
46. Dart Board
Do you know a work colleague who loves playing darts during the weekends? If you get them a dart board for their office, you can have them throw some during their lunch breaks. 
A thoughtful gift, don't you agree?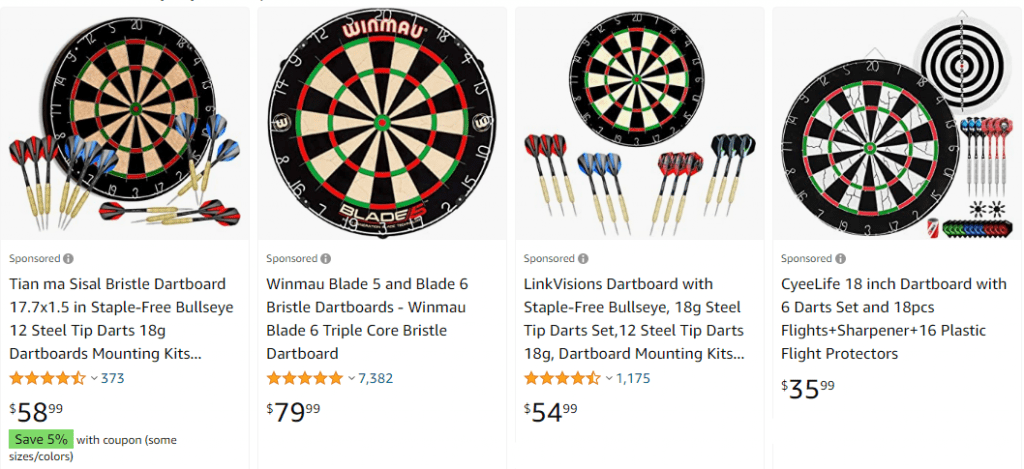 47. Painting
Paintings beautify a room, making it feel more welcoming. It's definitely a perfect gift for art-loving clients.
48. Headphone
Music helps relieve stress and can improve work productivity.
If you have a music-loving colleague at work, consider buying them a set of headphones they've always admired.
49. Desk Feet Hammock
An under-desk foot hammock can improve your blood circulation, neck, shoulders, and lower back, and make you feel more comfortable. Also, it can lessen the stress on your lower back, preventing you from developing chronic back discomfort from long-term bad posture.
50. Wine Crate
Does your client love to drink wine? Impress them by getting them a bottle or even a crate of exquisite wine. 
Or it could be your work colleague just got a promotion, and you want to do something to celebrate with them. You could get them a crate of their favorite wine to share with everyone else at work.
51. Foot Mat
Giving a foot mat is one of this list's most thoughtful gift ideas. It's your way of helping your workers ensure their office remains clean.
Foot mats are also aesthetic pieces. 
52. Decorative Desk Globe
If you have a friend at work who loves showing off his knowledge of geography, you might want to consider buying them a mini globe they can smile at whenever they want to.

53. Desk Tic-Tac-Toe
Tic-tac-toe is enjoyable to play at your desk, especially if you want to release some pent-up work tension or strengthen relationships among coworkers. 
Thankfully, they're inexpensive and very portable. Consider buying one for a work friend who loves games.
54. Air Freshener
Air fresheners make the air A nice-smelling air freshener is a thoughtful gift you can give to anyone corporately. After all, everyone loves it when their home or office smells invitingly nice.
55. Calf Socks
Calf socks are a super thoughtful gift you can get for a male colleague or client. 
These socks can help minimize sore feet from wearing shoes for too long and can double as a warmth provider for the feet when it's cold.
They'll always have you in mind whenever they wear your gift.
56. Custom Pencils
Almost everyone has a pencil on their desk. Most don't have a pencil that gets them smiling whenever they pick it up to use. 
Always wanted to grab the attention of a work colleague? Consider getting them a set of custom pencils. It'll mean a lot to the person if it comes with their initials inscribed.
57. Branded Laptop Backpack
Carrying a laptop around is often a chore if you don't have a proper carrier.
A functional branded laptop bag that doesn't stand out too much is one way to win the heart of a coworker you always find carrying their laptop around in their hands.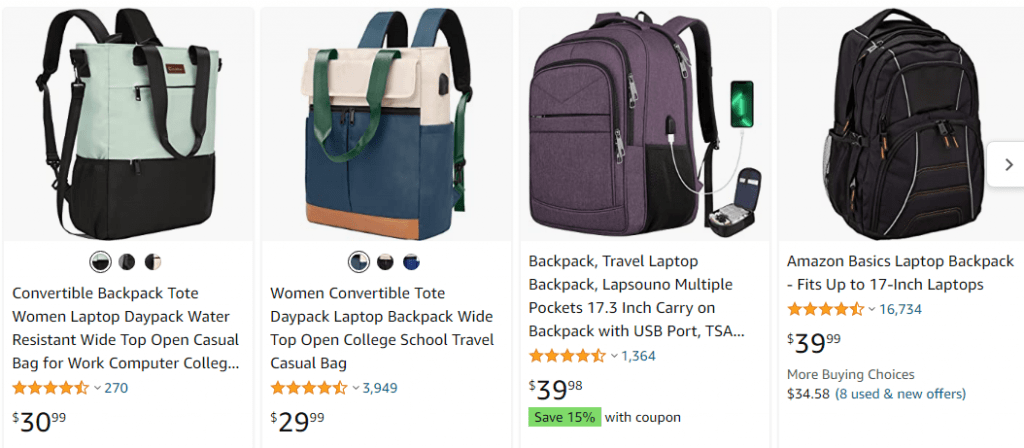 58. Sports Team Jersey
Football lovers would deeply appreciate receiving their favorite sports team jersey as a gift.
Take your time to learn about the team they support and get them a jersey accordingly.
You can even take the gift to another level by presenting them with a jersey that was signed by their favorite player on the team.
59. Custom Calendar
Calendars are useful in our everyday lives and even more so when we have busy periods and need to keep track of daily events.
Apart from their functional uses, calendars are also aesthetic. A custom one would sit pretty on a desk.
60. Fresh Fruit
A fresh fruit basket is a sure way to appease your boss while he's having a tough day and barely has time to grab lunch.
Be sure to include several fruits, so they get to enjoy a variety.
61. Box of Perfume
Who doesn't love smelling nice? If you get complimented for smelling nice at work, why not extend your aroma to your coworkers or clients by offering them a box of nice-smelling perfumes? 
In no time, you'll have your workplace smelling inviting.
62. Cake
Want to celebrate a client's promotion or recent achievement?
Get them a cake, or if you trust your baking skills, you can always bake it yourself, especially since it grants you more freedom to decorate the cake to your desire, thus making it feel extra special.
63. Wrist Bands
A wristband might seem more like a personal gift than a corporate gift, but when the band contains your company's initials, it becomes an advertising tool for your firm. 
You can also give your client a few more that they'll give to friends and family.
64. Moon Lamp
Moon lamps are night lights that resemble little moons and give off a calming glow. These little lamps frequently have distinctive qualities like being able to float or having built-in speakers. 
A fancy moon lamp isn't a gift people receive often, but it's one they'll love, especially if they own a home office.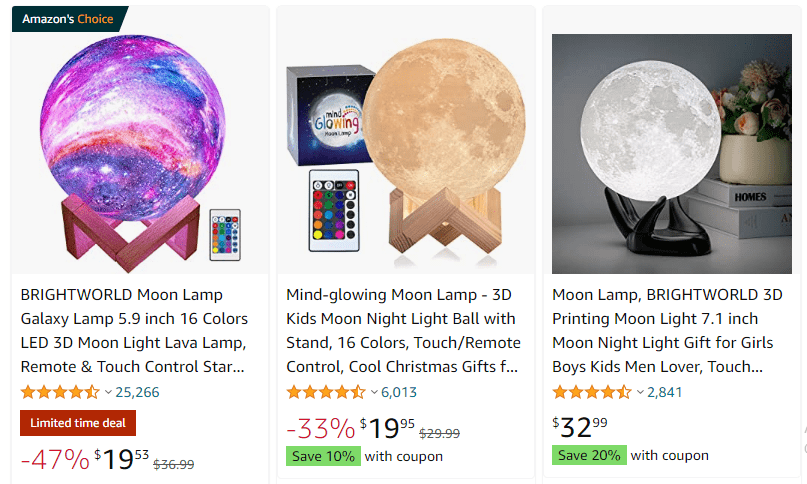 65. Spotify Subscription
Spotify is a widely used subscriber-based music streaming platform.
You can use Spotify for free, but with a subscription, your colleague can enjoy numerous benefits, including creating a playlist, enjoying podcasts, etcetera.
66. Gourmet Sweets
Finding something delicious at your workplace or in the mailbox is always a wonderful discovery. It would be even better if you could share it with your friends and family. 
There are many candies and sweets available to satisfy everyone on your list: fresh fruit, upscale nuts, cheeses, cupcakes, and sweets, or even heartier choices like smoked and fresh meats and dinners, are all acceptable.
67. Nature Box Subscription
Nature Box is a popular snack company that delivers snack packages to subscribers.
Gifting your colleague a NatureBox subscription will have them receiving mouth-watering snacks on their office tables regularly. If they're feeling generous, they can share with others too.
68. Smart Water Bottles
While a normal water bottle is a thoughtful gift, a smart water bottle is mind-blowing.
These vacuum-insulated double-walled stainless steel water bottles can keep your beverage hot or cold for hours, depending on the type.
Furthermore, some smart water bottles glow to remind you to drink water. Incredible, right?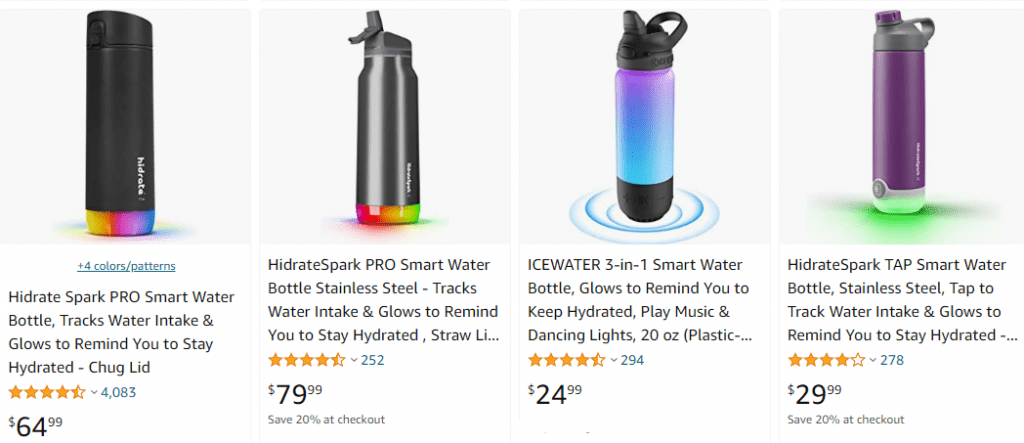 69. A Year's Amazon Prime Subscription
With a year's subscription to Amazon Prime, your film-buff friend will never miss another TV show or movie again. 
They'll have the luxury of watching movies on their phone, PC, or even office TV, without needing to be at home. 
70. HeadSpace Subscription
Know a colleague or client who wants to try out meditating but doesn't know where to start? 
With a headspace subscription, they can meditate effectively with the gudu=iance of the app on their phone.
71. Stress Ball
Studies show that squeezing a stress ball strengthens your muscles and nerves by stimulating and contracting them. Strengthening the nervous system as a whole lowers stress levels and helps to regulate important hormones. 
Don't you think it's a fantastic gift for a coworker who's always stressed out?
72. Ice Cream
Most people believe that sharing ice cream with someone is an excellent way to relieve stress from work or the effects of the hot weather.
Try it out and see what miracles it can perform.
Other Affordable Client Gift ideas for Small Businesses
73. Flower Arrangement
Surprise your client at the office or home with a beautiful flower arrangement. This gift might not last as long as some others but it is as thoughtful as anything else.
74. Custom Pins
Different gifts are for different customer groups. Custom gifts would be a good choice as they can meet your customers' preferences and needs.
Practical gifts are always welcome. As this determines the frequency your brand can be seen.
So custom pins would be the perfect client gifts for you. Pins are more than just gifts. They're nice festive accessories that can adorn clothes, such as scarves, hats, and sweaters – anywhere you can add a little holiday sparkle.
You can design custom pins with your brand's elements and Christmas elements on GS-JJ.COM.
A beautiful and practical Christmas custom pins gift will make your customers remember you well during the festival.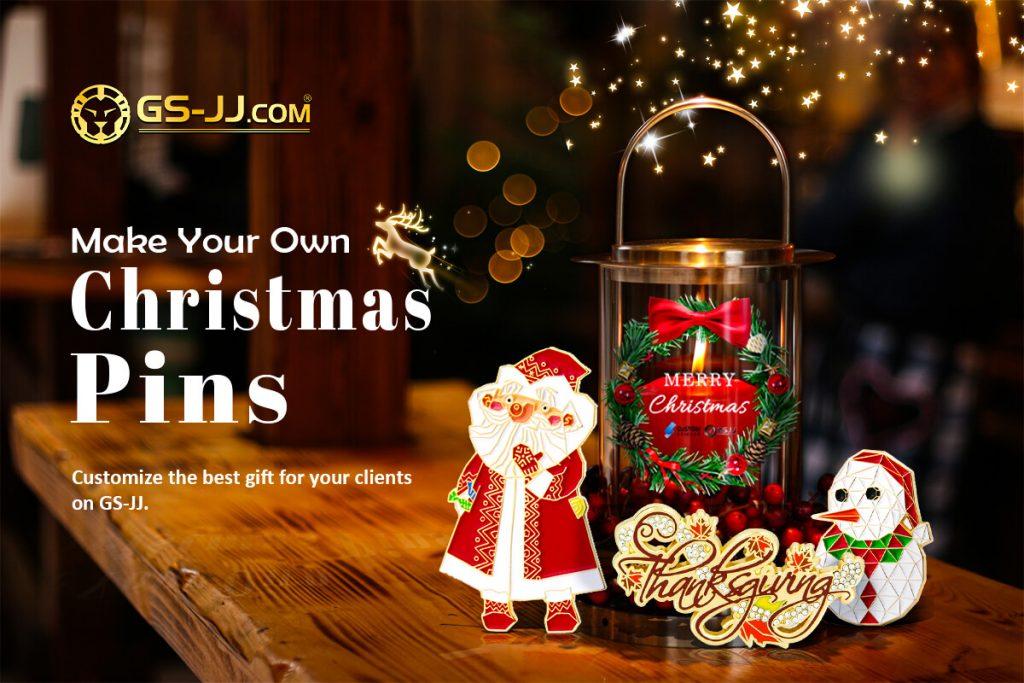 75. Essential Oils
Essential oils are crucial to help relax the body and mind. They lend an air of general relaxation, productivity, and positivity.
Not sure which oil to give each client? Try a package of different essential oils like jojoba oils, lavender, vanilla, and rose oil.
76. Shawl Scarf
The holiday season is synonymous with cold weather in most parts of the world. For instance, in Nigeria, it's characterized by hot afternoons and cold mornings.
A large, warm and soft scarf makes for a practical and inexpensive gift item. Dealing with a diverse mix of clients? There are many colors, patterns, and styles of shawls to pick from.
77. Pen Holders
This small, simple gift is practical in more ways than one. You can be sure your client will utilize this gift in the office or even at home. The pen holder will lend a touch of style and organization to messy work surfaces.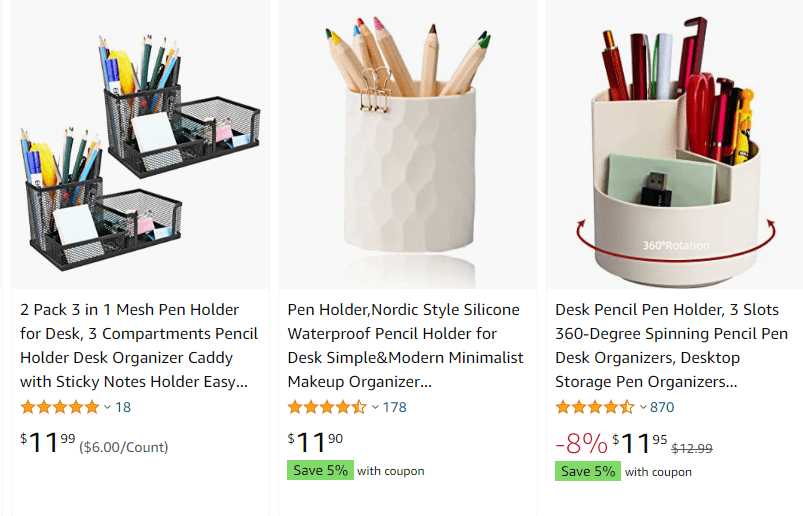 78. Customized Power Bank
As technology advances more and more, we now do everything on the move. Gone are the days when computers or electronic devices required a permanent plug-in to an electric socket.
With a portable charger, your client can forget about the worries of a low phone battery. All they have to do is charge these portable chargers before heading out of the home or office.
If there are no accessible power outlets while out and about, your client can quickly charge their phones.

79. Personalized Business Cardholders
The business world is about networking, communicating, and exchanging contact information. A business card holder is a must-have item if you are in the B2B niche.
Customized business cardholders let you show customers that you value their loyalty and wish them well.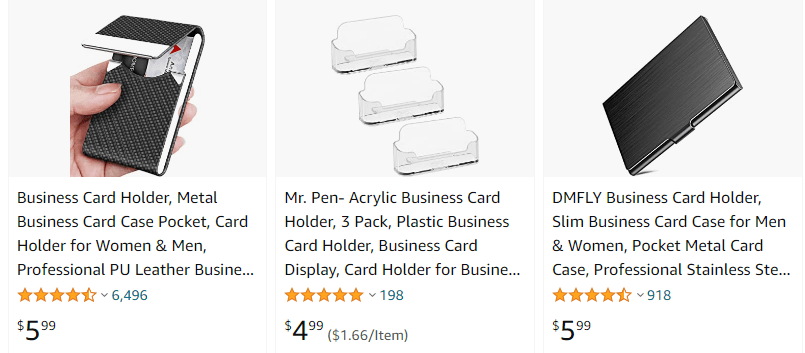 80. Lunch Bag
Yes, you read that right. Lunch bags don't have to be for children or preschoolers only. Office people who take their lunch to work would be grateful for a more comfortable and convenient way to carry their lunch to work. Try purchasing insulated lunch bags to give your clients something to be thankful for.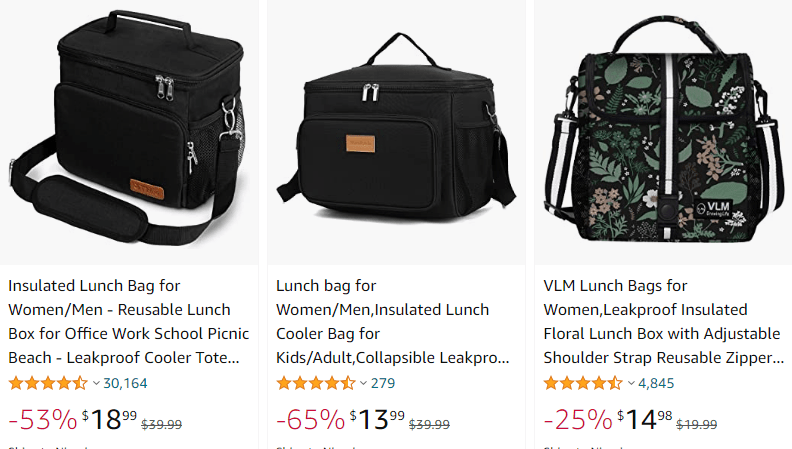 81. Sleep Masks
Sleep masks are not only ideal as fun gifts at parties or bridal showers. They are perfect for people who need a relaxing, good night's sleep or some rest while traveling. This gift is ideal for men and women and is perfect for your clients.
82. Coffee or Tea Blends
What better way to show your clients how much you appreciate them than with a gift that lights up their taste buds? If you have any particular tea or coffee blend you love, wrap it up and serve it out to your clients this holiday season.
83. Personalized Calendars
Rather than send out the regular, boring calendars this season, spice up your gift by customizing your calendars. Have designer custom-brand calendars to make unique gifts your clients would not find at the local supermarket.
84. Toiletry Bag
Do your clients travel frequently? Wrap up some toiletry bags as your thank you for their patronage this holiday season. You could easily monogram the toiletry bags to add a touch of uniqueness. Make sure you choose a bag made of quality material. Waterproof or leather is always a right, safe choice.

85. Online Classes
If you know your client and they are interested in baking, photography, or even art classes, you could quickly sign them up for some courses as a gift this season.
You can be sure that this is a gift they would not forget easily; it is way better than an easily consumed and forgotten cake or a never to be used sweater. Give out gift cards to an online class where your clients can develop their skills.
86. Restaurant Gift Cards
Do your research and find some of the best and trendiest restaurants accessible to your clients. Or, you could casually find out if there are any restaurants and spots they would love to visit then, and then you get them a gift card to that spot.
You could even get them a gift card that covers two people, so they could unwind over a meal with a loved one. Be assured that your name or company name will be on their mind and lips during lunch or dinner.
87. Baked Goods
Is there anything better than the delicious smell of freshly baked goods in your home? Sure there is, and it is the delightful taste of baked goods in your home. Send over a surprise delivery of fresh pastries or doughnuts to your customer, and they will love you for it.
88. Headphones
Headphones are not just for obnoxious teenagers with loud music. Office workers and business people can make good use of some quality headphones.
Give some out this holiday season to your customers. At least if they have no use for the headphones, they could easily be regifted to a young person.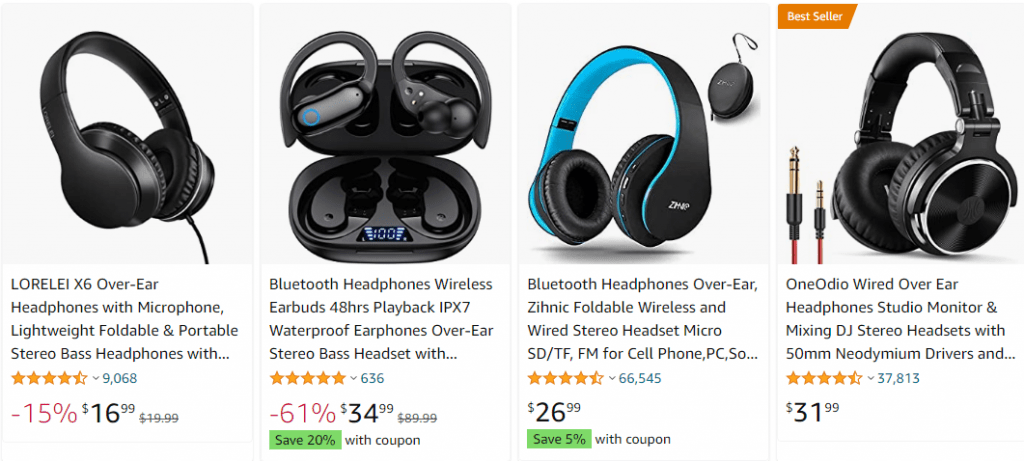 89. Cards/Handwritten Notes
You might think this is the tackiest, cheapskate gift, but you would be surprised how much people would appreciate a well-written note.
A card is the safest, surest gift to give this holiday season, and with the take-over of electronic letters and emails, your customers would appreciate a breath of fresh air.
90. Pet Grooming
To gift your client this, you must know them to a certain extent. Perhaps they have talked to you at length about their pet dog or cat, or you can tell how passionate they are about animals by the constant updates they post starring their furry friends.
Research the grooming places closest to your client and make reservations for them. Your client would appreciate this gift better than almost any other.
91. Notebooks
Have your local designer create some quality leather-bound notebooks embedded with your company logo or company colors. Your client would be glad to get a notebook gift they could use, and not just another cheap sticky note.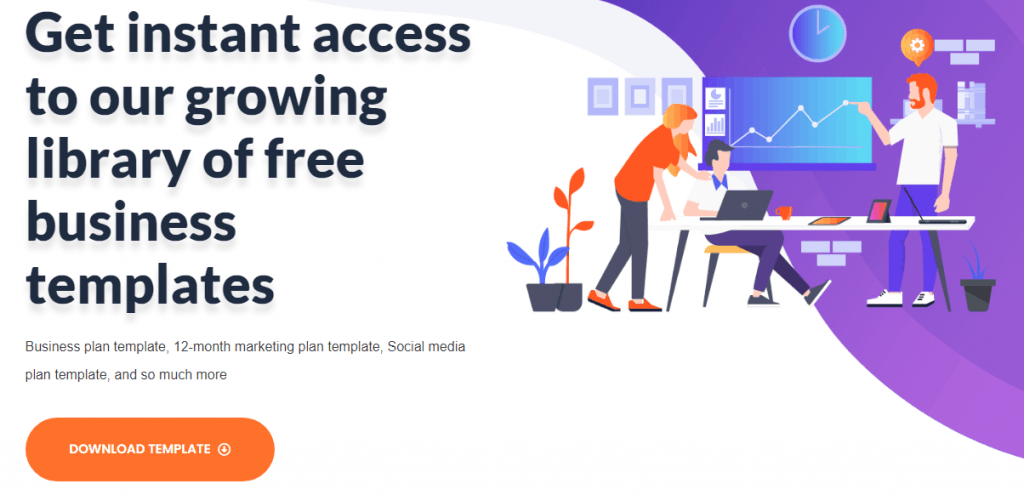 92. Fashion
A bad-fitting sweater done in terrible color is not the only way you could give out clothing as gifts this holiday season. Even though that seems to be the gift your grandma and aunties love to give out the most, your clients might not be too excited about it.
However, you could quickly wrap up some ties in lovely print, brooches, wristwatches, and even necklaces for your clients.
93. Books
What is life without good books, right? If you know any books that you feel everyone has to own at least a copy of, nothing stops you from including them in your gift list.
Think about books that have particularly impacted your career or helped your business grow.
Some great books are; How to Win Friends and Influence People by Dale Carnegie, 7 Habits of Highly Effective People by Stephen Covey, and Good to Great: Why Some Companies Make the Leap…and Others Don't by James C. Collins.

Final thoughts on gift ideas for clients inexpensive
How do you select gifts that resonate deeply with not just one but all your clients? You might think of buying some pens and notebooks and brand them with the company logo, but how about you consider going a bit extra this year?
By choosing gifts that express some thoughtfulness, you show your clients how much you appreciate and value their continued patronage. And you are doing so without incurring debts on your company.
Follow us on Twitter
Hand-Picked For You: