Nifty tools for the overwhelmed marketing manager to stay top of your game.
For a growing business, one of the most challenging roles is perhaps, that of a marketing manager.
Apart from ensuring that there is always enough business to meet the bottom-lines, the marketing manager is also responsible for customers' relationships, building the brand perception and looking out for what the competitors are doing.
Of course, these roles are soul-crushing, energy-draining and most times, boring.
But how do the smart ones cut through all these to remain on top of their games?
Of course, they are leveraging a couple of tools.
So, in this article, I have compiled my top-picked tools for an overwhelmed marketing manager, of course, in no particular order.
If you find it helpful, which I am sure you would do, please share with friends using the social media buttons and I will be super grateful.
So, let get started.
7 Hand-Picked Tools for The Overwhelmed Marketing Manager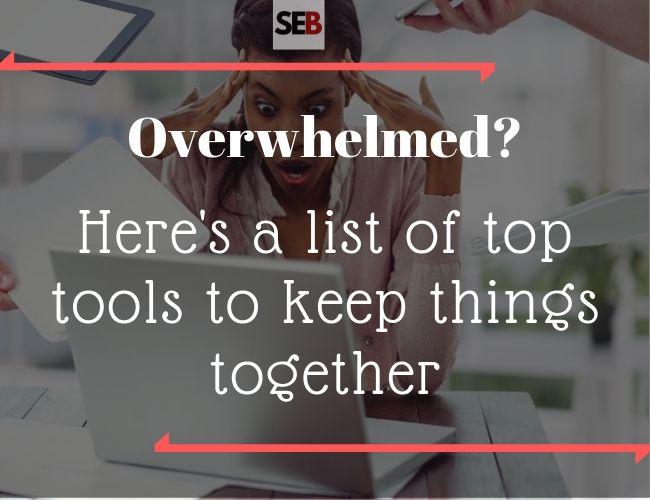 The ever-evolving nature of marketing today means that marketing managers should always be on top of their game to survive the red ocean.
As the times have become little more competitive, it is quite common for marketing managers to feel overwhelmed, disorganized and suffocated.
So, this article has profiled 7 tools that could help them to become less overwhelmed, more organized and super productive.
So, let dive in.
MailChimp
In a recent study by SaleCycle, 59% of the respondents admitted that marketing emails influence their purchasing decision.
In another survey by Emma, an email marketing provider, over 59% of marketers admitted that email marketing is their biggest source of ROI.
Of course, these show how important email marketing is today.
Active email accounts are expected to hit 5.6 billion this year and already, 93% of B2B marketers are using emails to distribute their content.
This is what Mailchimp does and the other email marketing platforms. They remove the hard work from your email marketing campaigns.
Ahref
According to a study, 86% of buyers conduct non-branded search queries before purchasing while another study reveals that 85% of users prefer organic search results to paid searches.
Different studies show that search engine optimization has a lead close-rate of 14.6% compared to only 1.7% for outbound leads (PPC, email, cold calling) and it drives 300% more traffic to the website than social media.
The above statistics justifY the need for this tool.
Ahref is a perfect tool for ambitious marketers that want to take charge of their organic search marketing.
It was designed to help people to build a robust SEO strategy, drive success with content marketing and of course, learn everything about their competitors.
With this tool ambition marketers can learn where their competition is getting their traffic, the keywords they are ranking for, their backlink profiles and of course, the domains that are linking to them.
This information is important for businesses that are positioning for organic competition domination.
Google Trend
Behavioral marketing has always been a valuable piece in today's marketing.
Understanding how people are searching for a product, the time of the season they are doing that and the queries they are using could be all a marketer needs to move the needles.
But collecting and processing this data could be quite tasking.
Thankfully, Google Trend was designed to do that in a couple of clicks.
It is an online tool that analyzes the popularity of top search queries in Google Search across various regions and languages over time.
It helps people to see how the searches for a query is trending over time and this insight, of course, could help them to make informed data-backed decisions.
Luckily, it costs absolutely nothing to use the tool.
To get started with it, just head to the tool, enter the query people are likely to search on Google for your product, select a location, hit the Enter key and it is all done.
Grab a cup of coffee and watch the magic.
Canva
Canva makes graphic design amazingly simple for everyone, by bringing together a drag-and-drop design tool with a library of more than 1 million stock photographs, graphic elements and fonts. (source)
Of course, this makes Canva a perfect tool for small businesses without a professional in-house designer.
Today, about 15 million people are using it and over 100 million designs have been created on the platform since October last year.
It has many options that make it possible to create almost anything in just a few minutes.
Google Analytics
Today's marketing is data-driven and of course, everyone agrees to this.
But the challenge lies in collecting data that are both actionable, has minimal noise and very easy to analyze.
Luckily, this is exactly what Google Analytics was designed for.
Adding Analytics to websites allow marketers to track unique visits, the source of the traffic, page views, demographics of the visitors, the type of device they are using, conversion rates and the exit pages.
It can also track return visits from old visitors, how deep people are scrolling down the website, the bounce rates and of course, average session duration.
These metrics provide actionable insights on how valuable and relevant people find the website and the published content.
Hotjar
If you are interested in knowing exactly how visitors are interacting with the elements on your website, then this is a perfect tool for you.
Of course, if you have not used a heat-mapping tool before you might not appreciate how important this tool is until you have tried it.
Luckily, there is a free version and you can always upgrade later.
With Hotjar you can see heatmaps of the most clicked areas of your website, areas the users moved their mouse to the most and also how far down they are scrolling the website.
Perhaps, you might consider placing your CTA buttons on those hot zones.
Other important uses of this tool include the actual recording of visitors' interactions on your website and also tracking the conversion path of the visitors.
Of course, this is useful for identifying what might be hindering them from converting.
You can always use the data generated by the tool to optimize the webpages until you attain the best possible conversion rate and UX.
Kindly check out this article from Hotmart. It would show you exactly how to use Hotjar to optimize your webpages.
Social Media
Marketing today has evolved to become trust-based and self-directed and there is no better way to build a relationship and gain customers' loyalty than using social media.
A study by Oberlo found out that 71% of consumers who have a positive experience with a brand on social media are likely to recommend the brand to family and friends.
Another study found out that 66% of people that visit social networks do so to learn about new products and services.
73% of marketers believe that social media marketing has been very effective for their businesses.
With over 3 billion active social media users spending an average of 142 minutes per day on social networks and messaging, social media for businesses is no longer an option.
It is an invaluable part of the marketing strategy.
Final thoughts on the best tools for the overwhelmed marketing manager
If you are a fan of target marketing, then you might be interested in checking out Google Correlate.
The tool can help you to build a perfect persona profile, predict buyers' journey, build a list of powerful keywords that correlate with your target keywords and also do competitive profiling.
This article did a great work on how to use it.
Other great tools include ShopMessage, Google URL campaign builder, Buzzsumo, Facebook Ads, Google Ads and of course, a lot of others.
It won't hurt checking them out and of course, don't forget to share this.
I will be super grateful.