If you're looking for ways to scale your customer acquisition this 2023 and are stuck on the way forward. These 5 small business leads generation strategies are for you.
Lead generation is becoming increasingly challenging for small businesses.
According to Forbes, about 58 percent of business owners believe that generating enough leads is their biggest headache. If you are in this category, this article is for you.
Here, we shared some unconventional, effective ways to generate quality leads for your small business this new year. But first, let's clear up a few things.
How Difficult is Lead Generation in 2023?
With 50 percent of marketers considering lead generation as their top priority, it will no doubt be a challenging task for many firms in 2023.
Furthermore, the ever-changing digital marketing landscape makes it difficult to stay up-to-date with the latest trends and lead-generation tactics.
But don't worry; with the right tactics, you'll struggle less to generate leads in 2023.
When it comes to lead generation, businesses must remain on top of their game by implementing various techniques such as SEO optimization, content production, email marketing, social media advertising, etc.
Recommended For You: How We Made Six Figures In 21 days Just Sending Emails
Top 5 Unknown, Yet Effective Leads Generation Strategies for 2023
As promised, here are the top five lead-generation strategies for 2023:
1. Use data to improve your SEO strategy
Businesses aiming to generate leads are increasingly relying on analytics to enhance SEO.
Companies may find areas for improvement and optimize their websites by studying how users behave. This method improves their ability to target new clients and boosts lead creation.
Additionally, businesses are employing data-driven insights to better understand how various search engine algorithms operate to position themselves more effectively in organic search results.
Data analysis isn't always easy, but you can easily obtain a competitive advantage over your rivals with tools like Marketing Miner. The tool provides vital data like competitor analysis, brand monitoring, link building, etc.
Pro Tip: Use Marketing Miner to leverage data in your SEO campaign and build a strategy that outranks competitors.
You Might Also Like: The Top 15 Small Business Challenges and How to Navigate Them
2. Explore unconventional channels
Exploring unconventional, unknown channels can be a great way to increase leads. 
These channels allow you to reach out to potential customers in ways that weren't possible before. Pinterest has over 70 million users and is a great place to start. You can generate leads on the platform by creating content that links directly to your Website's landing page.
You can see how we use Pinterest here.
Quora is another channel you can explore.
You can build your authority by providing answers to questions related to your products and services that people ask, often highlighting how your services can help them. For us, we share our blog post intros in our Quora Space, with a link to read more in our blog.
Sharing our published content helped us double our blog traffic in less than four months.
Other unconventional channels include:
Pro Tip: Leverage unconventional channels to explore new terrains and drive qualified traffic to your website. You can repurpose published posts and share them on these channels.
3. Quickly convert web visitors into qualified leads
Web traffic is useless if it can't translate to leads.
Sadly, most small businesses struggle with converting their monthly traffic into leads. It increases your customer acquisition costs, making your marketing more expensive and unsustainable in the long term.
However, with Collect.Chat you can quickly convert your traffic into sales leads with automated bots. You can check this blog's intro to see how it works. Follow these steps to replicate our strategy.
Sign up to Collect.chat.
Create a bot that answers customers' questions.
Capture their emails and other contacts along the conversation.
Embed the bot on your blog content and service pages.
Pro Tip: Use Collect.Chat to convert your web traffic into sales leads and scale your lead acquisition efforts.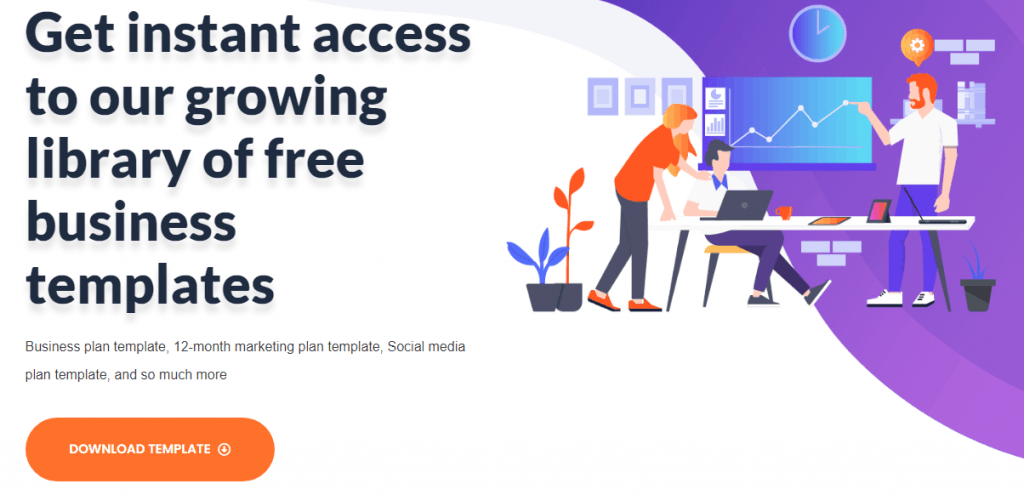 4. Steal your Competitors' Customers 
One of our best customer acquisition strategies is stealing competitors' customers.
It's ethical, and you can do it too.
I don't think anything is wrong in identifying your competitors' customers and developing personalized campaigns to target and convert them. One of our favorite ways of doing this is using Google's custom affinity audience. 
It's a Google display ad targeting strategy that lets you align your ad campaigns to individuals who have shown interest in your offer. For instance, you can target every visitor that visited your competitors' websites or a specific web page and serve them personalized messages.
Follow these steps to set up the campaign:
Sign in to your Google Ads account.
Navigate to Audiences > All Audiences. 
Select the Custom Lists tab > Custom Intent > New Custom List.
Input 10 to 15 keywords relating to products and services your target audience is actively seeking. Because the keywords are deemed broad matches, there is no need to provide plurals, misspellings, or other variations.
Enter URLs connected to products and services your target audience is actively looking for. Avoid weblinks that need you to log in (i.e., social media pages).
When you're finished, click Create.
Pro Tip: Use Google Custom Affinity Audience and a personalized message to target your top ten competitors' customers. Use Facebook retargeting to nudge them closer to conversion after visiting your website or landing page.
5. Build your strategy on content 
Content is king.
It costs 62 percent less than traditional marketing and generates three times as many leads. Also, 56 percent of marketers admitted it's an effective strategy, and ten percent said the channel generates the highest return on investment.
Additionally, 62 percent of B2B buyers and purchase decision-makers said they rely on content, like case studies, visual content, and webinars, to guide their buying decisions. 
So, when done right, content marketing can scale your lead acquisition.
And these tips can put you on the right footing.
Target long-tail keywords.
Add a new perspective to each content to make it more valuable.
Make your tips actionable and cut off long and unnecessary stories.
Embed a Collect.chat leads bot to generate leads from readers like we did in this post.
Add an FAQ section that addresses customers' top questions on the topic at the end of the post, like we did in this content.
Use Surfer SEO to optimize your content to outrank competitors.
Use FAQ schema.org structured data to markup the article to improve its ranking.
Add an article schema structured data when you publish each post.
Add related posts and link in-content to reduce bounce rate and build internal links.
Use attractive images to grab and keep readers attention.
Write in shorter sentences and paragraphs.
Build backlinks to the posts.
Share your post on all social media platforms.
Email weekly roundups of your recent posts to customers.
Pro Tips: Gain powerful, actionable on-page optimization insights with Surfer SEO to outrank your competitors and dominate the organic competition.
Leads Generation Strategies FAQs
Is lead generation challenging?
Lead generation can be a difficult undertaking for businesses. With numerous marketing channels to choose from, it can be tough to determine which is the best option and how to monitor leads more efficiently.
You need a deep knowledge of client demands and the ability to develop material that directly appeals to potential customers to purchase your goods or services.
However, you can easily scale through these challenges with the right strategies.
How much does lead generation cost?
On the other hand, the price of generating leads might vary greatly based on the sort of organization, its size, industry, and target demographic.
Generally, in lead generation, the number of connections you intend to produce and their quality determine the costs you incur; higher-quality leads tend to cost more but yield better returns.
What is Lead Nurturing?
Lead nurturing is gradually building connections with prospective customers or leads. It entails supplying them with pertinent information and material to assist them in progressing through the sales funnel and finally converting them into clients. 
The purpose of lead nurturing is to establish trust between you and your prospects so that they will be more inclined to purchase from you in the future.
How do I nurture leads for conversion?
To convert those leads into paying clients, you must first understand their wants and provide them with appropriate material to help them make educated decisions.
This might involve communicating with potential consumers via online forums or chatbots, sending out emails or direct mailers, making targeted social media advertisements, providing discounts or special offers for new clients, and more.
When should I scale my lead generation?
Current demand, financial limits, and market trends can all influence this decision.
Also, knowing what kind of leads are most vital to your business can help you decide whether it is time to engage in more aggressive lead-generation strategies like paid advertising or content marketing initiatives.
Finally, considering these factors will guarantee that any judgments made regarding increasing lead generation activities are well-informed and purposeful.
What is the best form of lead generation?
Businesses can generate leads through numerous methods, including email marketing, search engine optimization (SEO), pay-per-click (PPC) campaigns, etcetera.
Each strategy has its benefits and cons, so it is crucial to choose the one that best meets your demands.
For example, if you want to generate leads quickly, PPC may be the ideal solution, but if you want more long-term outcomes, SEO or content marketing may better suit your aims.
Which metrics can help me track my lead-generation efforts?
There are various metrics to measure lead-generation activities, like the number of leads created from each source, each lead source's conversion rate, the cost per acquisition (CPA), and the amount of time spent on lead generation.
You should also track the quality of your leads in terms of their likelihood to convert into consumers.
2023 Leads Generation Strategies: What Next
Start actioning the strategies in these resources right away.
With these strategies, you'd generate consistent leads streams with less effort. We recommend implementing them one step at a time, so you don't overwhelm yourself. It also lets you track your performance to see how each strategy contributes to your bottom line.
If you find these strategies challenging, you can contact us and focus on running your business. Our team can implement multi-channel leads generation strategies that scale your business effortlessly and put you ahead of the competition.
Recommended For You: Get Steady Streams Of Organic Leads to Grow Your Business this New Year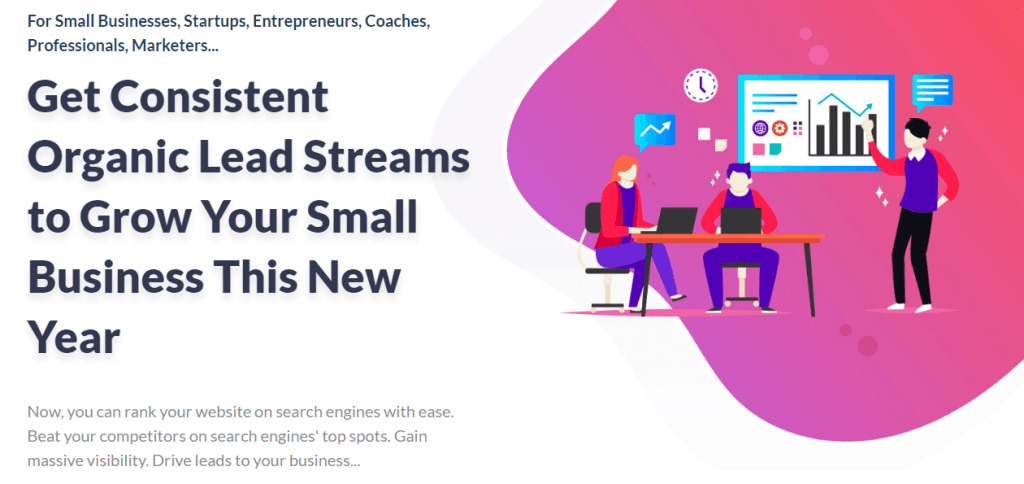 Hand-Picked For You:
Disclosure: This content has a few affiliate links, which means if you click on them, I will get a commission (without any extra cost to you).