It's the turn of a new calendar and you are wondering how to use the new year to promote your business, read this:
It's a New Year. And, as a business owner or entrepreneur or freelancer, you are wondering:
"How do I leverage the festive season to grow my business?"
You are sitting right there on your desk and researching how to take advantage of the New year to promote your business.
If this is you, you are in luck. You see, just like you, there are other business owners thinking about the same thing – I included.
That's why I've scoured the web to gather the best ideas for promoting any business in the New year.
I hope, the inspire and give you fresh ideas you can implement in your business.
Bye-bye to 2022…say welcome to 2023
The new is already upon us.
But how are you preparing to make the most out of this once-in-a-year opportunity?
Do you even know that you can tap into the spending spirit of consumers if you promote your business the right way?
If you have not made any marketing plans to boost your business this New Year:
Here are 7 ways to ride on the excitement of the New Year to promote your business:
Celebrate New Beginnings
A New Year is a brand-new beginning and a great chance for many people to start something new or have a fresh start.
A 2018 survey by Daily Trust found that forty-three per cent of Nigerians say, setting new year resolutions are helpful to get them to achieve their goals. The survey collaborates the finding that up to 45 per cent of Americans make New Year resolutions. (Source)
So, how does this concern you? How can you take advantage of your prospects' New Year resolutions?
Position your services and products as solutions that would help them crush their New Year resolutions.
You will want to figure out a way to encourage your prospects and customers to stick with whatever New Year resolutions they have made while embracing your services or products in the process.
Bottom line is: position your services or products as "resolution solutions" or a tool to help people achieve their respective goals this year.
Send an Early New Year Email to Your Subscribers
One of the best – and easiest – ways to make your subscribers' faces light up with joy is by sending them a "Happy New Year" message from your company.
Sending the email early – i.e. a day before – is even much better as it indicates that they are remembered and respected.
Your email – which should contain New Year-centric offers or promos – will quickly be noticed and read, thereby making your prospects or customers feel appreciated. This can drastically increase customer loyalty if you do it well.
To show you this works, I recently sent out a New Year message to my email list and had an open rate of over 36% which is more than my average open rate.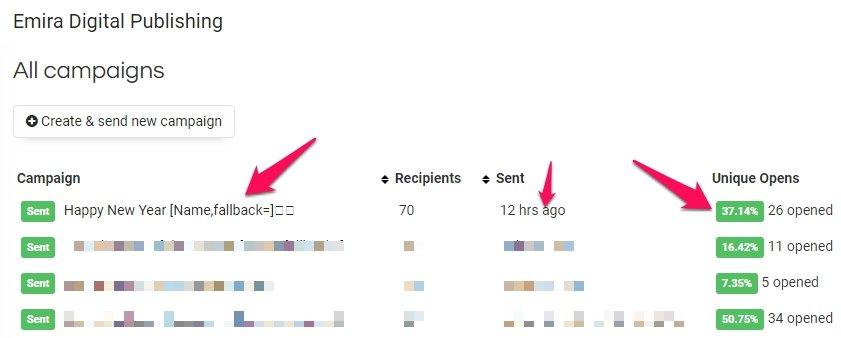 You may also like: How to Use Email Marketing to Grow Your Business Even If you Have A Small Subscriber List
Launch "Fresh Start" Sales
This may sound trite, but many people still follow the mentality of "out with the old, and in with the new" thingy. You can take subtle advantage of this mindset by launching what is known as a "fresh start" sale.
A "fresh start" sale is a perfect way to introduce a new service or product, and you can promote other products or services along with it.
You can even make your offers more enticing by giving great discounts but with a set time limit. Then, promote your "fresh start" sales on all relevant social media platforms where your target audience frequents.
If you own a physical or brick-and-mortar store, you may hang in-store banners as well as create beautiful postcards reminding your customers to take advantage of this once-in-a-year opportunity.
Need to outrank competitors? Get hundreds of quality backlinks to boost domain authority, generate referral traffic and get ahead of the competitions.
Share Tips and Tricks
Many people, at the start of the New Year, are always geared up to start something new or pay more attention to improving some habits.
You can start sharing tips and tricks around that particular idea while you subtly promote your services or products.
For instance, a savvy investment company can create a free eBook that offers fresh investment tips for the New Year. And then, throw in a premium offer that will be too good to pass up.
You can adopt the same strategy, depending on the type of products or services you offer.
Content Remains King
Search engine optimization will not go away anytime soon. So, it would be best if you were on the lookout for new Google algorithms for they will surely be rolled out.
The best – and most consistent – way to stay on top of your game is to keep churning out valuable content that your prospective – and existing – customers find useful.
Your content needs to entice prospects to your business at all times while the old-timers are not left out.
Be sure to create content that is shareable and also encourage your site visitors to share them with their connections across all social media platforms and beyond.
This implies that your content must be packed full of value. Ensure to use images – the images could be pictures of your products, screenshots of comments and testimonials, data from your datasheet, and graphics that enable you to make your points.
You can also share video content in your social media posts in order to maximize the exposure of your services or products.
Since visuals will continue to be a massive thing in the coming year, make sure that you take full advantage of this.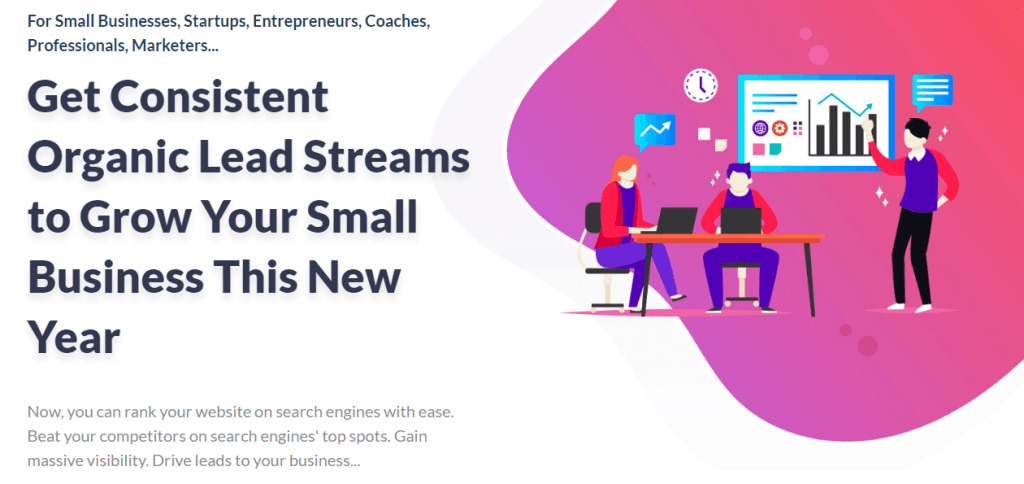 Understand Each of Your Customer's Journey
In 2023, businesses that focus only on selling, selling, selling without an understanding of their customers' journey will struggle.
Implement the opposite strategy, strive to understand your customers – their needs wants, desires, pain points – only then, position your brand as serving them.
Become ruthlessly customer focused.
Start by looking for ways to appeal to both new and existing customers via an extremely personalized approach. You can start this by building a high-quality list of prospects and customers.
Next, nurture these inbound leads by building a relationship with them even as they undertake their respective purchasing journey. When you do this, you will convert far more prospects into customers, and end up with a loyal and satisfied customer base.

Set Your Social Media Channels in The Holiday Spirit
To get your customers and prospects super excited about your business in 2023, change your profile pictures, avatar or header photo into a new and festive one. The image must be eye-catching so that it will readily seize the attention of your target audience.
This way, your business remains at the top of their minds all through the season. And if anything relating to your services or products come up, your business will readily come to mind.
Your avatar can also be used as a medium to promote New Year-specific services and products.
Additional Ideas You Can Use to Promote Your Business in the New Year:
The following are other ideas you should consider adopting to promote your business this season:
Create and print a branded 2023 calendar
Host "countdown" contests on all your social media channels
Throw a party on New Year's Eve
Theme up your brick-and-mortar store with a festive party scene using the products you sell
Run festive promotions
Get instant access to free business templates + 12 months marketing and social media plans to grow your business in 2023.
Wrap Up: how to use the New Year to promote your business
New Year is an exciting time of the year to a fresh start…as your customers and prospects set new goals for the year, you should position your brand as a partner that would help them crush their resolutions.
Use these seven ideas above to promote your business in the New Year.
We like to hear from our readers, tell us which of the ideas you would be implementing in your business this New Year.
Recommended For You: Free Business Templates to Streamline Your Workflow this New Year
Hand-Picked For You: