On a shoe-string budget? No worries. Here are cheap ways to promote your business.
Over the years, consumers have shown a growing resentment for digital ads and this seems not to be dying any time soon.
Of course, they are intrusive, disruptive and overtly annoying.
But the secret lies in making ads less intrusive, less annoying and more engaging.
Unfortunately, in an era where everyone is bombarded every day with a lot of advertising noise, getting the attention of the right audience could be quite difficult.
Of course, this poses serious challenges to small businesses.
But how do the smart ones cut through the noise to pass their messages across?
Of course, it is simple.
In this article, you would learn exactly how smart business owners promote their businesses in a way that is not intrusive, disruptive and expensive.
So, let dive in.
7 cheap ways to promote your business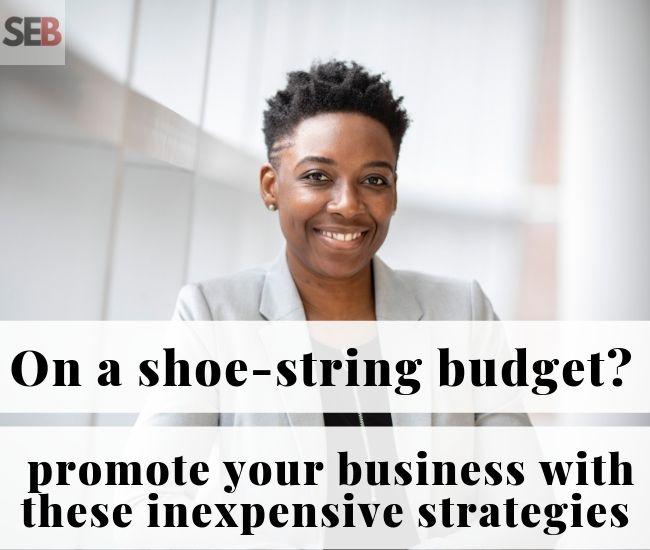 In today's competitive business environment, brands don't necessarily need heavy marketing budgets to differentiate from the competitions.
Of course, there are a plethora of options they could leverage to move the needles and, thankfully, this article has compiled 7 cheap ways you can promote your small business.
So, let get started.
Create content
The truth is people expect you to do this.
According to a study, 84% of people expect brands to create content and the good thing is, 95% of B2B buyers consider it to be trustworthy when evaluating a company.
Different studies show that average buyers consume about 11.4 content before making a purchasing decision, those that read a brand's educational contents are 131% more likely to purchase and 48% will still purchase even after 1 week.
Of course, these show that content marketing is the future and the truth is, 78% of CMOs agree to this.
Leverage Google My Business
This is a listing that allows people to find local businesses around them.
Imagine that you are looking for an attorney or an event planner. Of course, chances are that you would pull out your phone and start searching for the attorneys or event planners within your area.
Google would show the top 3 businesses that optimized for that. So, smart businesses leverage GMB to appear for local searches.
A study shows that 4 out of 5 consumers perform a local search before making a purchase and 50% of people who does this on their smartphone visit a physical store within one day and 18% would buy within a day.
List on Local Directories
Of course, just like Google My Business, listing on local directories can also help businesses to appear for local searches.
The good thing about directories is that they allow businesses to display key information like their products, prices, contact details, opening hours and of course, they are very important for SEO.
Local directories can also help businesses to improve online presence, build brand reputation, drive local sales and it could also be a starting point for businesses without a website.
The best part about listing on them is that most of them are free.
Comment on relevant posts
Of course, you won't know how powerful doing this is, until you try it.
To get started with this, research the top blogs in your niche and identify their top-performing blog posts. Go to the comment section and provide more depth to anything the post didn't cover in-depth.
You can reference a resource on your website, but make sure you don't spam the comment with links.
You can also leverage Quora to achieve the same thing.
The platform provides opportunities for people to ask real questions and connect with those who contribute unique insights and quality answers.
To get started, head to the website, then create a good profile.
Use the search bar to identify recent questions that are relevant to your niche and kindly provide an in-depth answer to them.
You can also copy an existing blog article that answers the question or create a new one and reference them appropriately.
Quora provides good marketing opportunities if utilized appropriately.
Leverage Social Media
With over 3 billion active users spending an average of 142 minutes per day on social networks and messaging, of course, leveraging social networks could be a sure way to unveil unimaginable opportunities.
A study by Buffer shows that 73% of marketers believe that social media marketing has been very effective for their businesses.
A different study found out that 66% of people that visit social networks do so to learn about new products and services.
Of course, this shows how important social media is in today's marketing.
Thankfully, this article has compiled 5 social media networks you should consider for your business.
Join relevant Facebook groups
This is my favorite, perhaps because I have closed more leads on Facebook groups in the past 6 months than other channels combined.
To get started, identify the groups that are relevant to your niche and join them.
Try as much as possible to be active in all the groups. Join relevant conversations and contribute meaningfully, leverage any opportunity to market your business tactfully.
You can always follow up using Facebook messages.
Utilize experiential marketing
In a study by EventMarketer, 65% of brands say that events and experiential programs are directly related to sales.
 A survey by The Event Marketing Evolution reveals that 52% of respondents believe that event marketing drives more business value than other marketing channels.
Of course, this shows how important experiential marketing is.
It utilizes immersive experiences to connect people to brands, create emotional connections, build a massive following and uniquely inspire a fiercely loyal customers base.
Wrapping it up
One mistake you would be making is to think that this list is exhaustive.
The truth is it's not.
Creating an affiliate program, building an email list, optimizing for the search engines, cold calls, SMS marketing, flyers distribution, asking for referrals is also some of the ways you can promote your small business without breaking the banks.
Of course, it won't hurt leveraging as many as you can.